Tuesday's Shot of Bourbon Trivia
If you threw a party for the whole world, and served only the bourbon that is now aging in barrels in Kentucky, every man, woman and child* on the planet could have four drinks apiece.
Source: Colin Blake, creative director for Flavorman and Moonshine University at theDistilled Spirits Epicenter in Louisville
*The Bourbon Babe is not suggesting that children should drink, but she didn't want to redo the math.
---
Old Forester was named for Dr. William Forrester, a Civil War hero and one of the investors who backed George Garvin Brown's groundbreaking idea to sell bourbon only in bottles to ensure quality and consistency. Dr. Forrester himself was not old; he was just 34 when the brand was founded in 1870. The "Old" in the name referred to the fact that the bourbon was matured in barrels.
Did you notice the discrepancy in the names? The bourbon was originally called Old Forrester, with three Rs, until 1890, when Dr. Forrester retired and the spelling was changed, says Brown-Forman master distiller Chris Morris.
Source: Woodford Reserve Bourbon Academy
---
By thebourbonbabe on August 20, 2013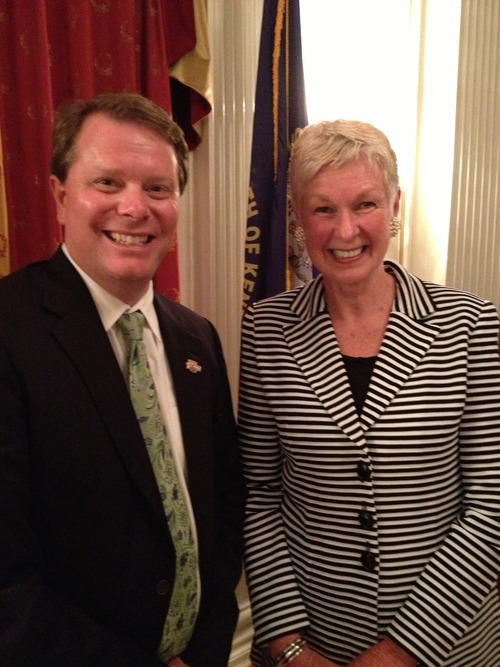 The first woman to ever serve on the Kentucky Distillers' Association's Board of Directors was Lois Mateus. She was appointed to the board in 1992 as the director from Brown-Forman, where she retired as senior vice president in 2008. KDA president Eric Gregory, above with Mateus, noted that other board members appointed that year included Jimmy Russell of Wild Turkeyand Bill Samuels Jr. of Maker's Mark.
Back then, Mateus' appointment as the first woman board member wasn't celebrated. "Our association and our board didn't recognize this pioneering achievement at the time, but it certainly made a difference in our industry, and that oversight is proudly being corrected tonight," Gregory said last Thursday at the Governor's Mansion.
That evening, the KDA and the Bourbon Women Association honored her with the first-ever Lois Mateus Networking Award. The award will be given annually, said Bourbon Women founder Peggy Noe Stevens, to a woman who has excelled in her profession by continuously building key relationships to contribute to the growth in her respective industry; broken through barriers to grow her career; contributed to the community through service and philanthropy; increased exposure for other women to grow their networking and career opportunities; developed creative partnerships and strategic alliances to further the growth of her respective industry; and become a role model for female professionalism.
In accepting the award, Mateus said that networking is close to teamwork and that those in the bourbon industry have long realized that "a rising tide lifts all boats." To illustrate her connectedness, she brought along the "smart phone" of 1992: her Rolodex.
---
By thebourbonbabe on August 13, 2013
Abraham Lincoln is the only U.S. president who was also a licensed bartender.
In 1833 he opened Berry and Lincoln, a store and saloon in New Salem, Ill., with William F. Berry, a friend from his militia days. What did they serve? According to Chicagoist.com: "Half pints of French brandy for 25 cents, peach brandy for 18.75 cents, and apple brandy for 12 cents. Half pints of Holland gin cost 18.75 cents, while domestic gin was 12.5 cents. Wine cost 25 cents, rum was 18.75 cents, and whiskey was 12.5 cents."
The venture didn't last long, however, as William Berry was apparently an alcoholic who drank during business hours. Lincoln sold his interest in the store to Berry after three months; when Berry died two years later, Lincoln assumed the debt, finally paying it off in 1848.
Sources: The Frazier History Museum, Louisville, Ky.; Chicagoist.com
---
By thebourbonbabe on August 6, 2013
One of the earliest known recipes for sour mash dates to 1818 and is attributed to a woman. Catherine Carpenter of Casey County, Ky., ran her husband's distillery after his death and recorded recipes for both sour and sweet mash.
Source: "Kentucky Bourbon Whiskey: An American Heritage," by Michael Veach
---
By thebourbonbabe on July 30, 2013
If any of the bourbon in a bottle has been aged for fewer than four years, the bottle must carry an age statement on the label. If all of the bourbon is more than 4 years old, the age statement is optional.
---
By thebourbonbabe on July 23, 2013
Yesterday I took you to Corsair Artisan Distillery, which is in the process of expanding into a historic building that fronts on Fountain Square in Bowling Green. Here's a fun piece of that history: Built in 1925 to house the Pushin Department Store, the building had the first public elevator in Bowling Green.
Source: Park City Daily News