Taste: Jim Beam Signature Craft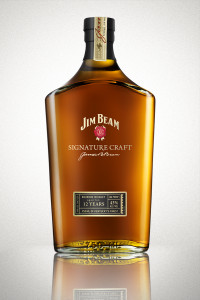 Jim Beam Signature Craft
86 proof; 12 years old
$39.99/750ml
The story: Jim Beam, the world's top-selling bourbon, has introduced a new line of "ultra-premium" brands. The Signature Craft 12-Year-Old will be the permanent expression in the line; there will also be a series of limited-release small-batch bourbons, beginning with theSignature Craft Rare Spanish Brandy, which I'll review soon. First, let's taste the 12-Year-Old, which Beam kindly provided to me to sample.
Aroma: Vanilla; lots of oak, bordering on cedar; cinnamon.
Taste: Bold and tingly on the front, followed by maple syrup sweetness. Not as much wood on the palate as in the nose. Nice, long finish that leaves a warmness at the back of the throat and a hint of spearmint on the tongue.
Verdict: When I first tasted the Signature Craft, at WhiskyFest Chicago in April, I thought it was pretty tasty, and this sample confirms that. I've always enjoyed Beam's small-batch bourbons (Booker's, Baker's, Basil Hayden and Knob Creek), but I've never been a big fan of Jim Beam proper; it's not a bad bourbon, it's just not at all complex or challenging. With this 12-year ultra-premium, master distiller Fred Noe has produced a Jim Beam that I'd gladly add to my liquor cabinet.