Taste: Wild Turkey Forgiven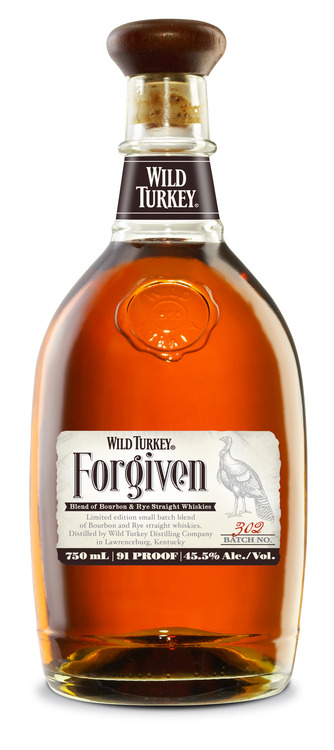 Wild Turkey Forgiven, Limited Edition
91 proof; 78% 6-year-old bourbon and 22% high-proof rye
$49.99/750ml
The story: This limited-edition whiskey is being marketed as a happy accident. Here's what they say in the press release: "When the distillery crew mistakenly mingled a very rare, high-proof Rye with perfectly-aged Bourbon, Associate Master Distiller and Kentucky Bourbon Hall of Fame member Eddie Russell discovered they had unwittingly created something exceptional. The resulting whiskey knocked Eddie's socks off and a story of consequence was born. Needless to say, all was 'Forgiven.'"
However, I have a hard time believing that anything accidental happens at any distillery these days. The press release goes on to say: "Featuring a unique blend of 78% perfectly-aged, 6-year-old Bourbon and 22% rare, high-proof Rye hand-selected from Wild Turkey's signature No. 4 alligator charred barrels,Forgiven marries the best qualities of Wild Turkey's big, flavorful Bourbons and Ryes." Does "hand-selected" sound like an accident to you?
No matter. Tall tales and legendary lore are part of the fun of bourbon, so I won't begrudge Wild Turkey for this one. Especially since they were kind enough to send me a sample for review. Let's get to it.
Aroma: Bold and smoky, with notes of mesquite; some caramel.
Taste: Bourbon on the front, rye on the back. On the front, this bold whiskey is sweet and creamy, with lots of vanilla and caramel. Hold it on the middle of your tongue and you wouldn't guess it's 22 percent rye. Then swallow. When it meets the back of your throat, the peppery spice of the rye kicks in, and I do mean kicks in. Forgiven has a nice burn all the way down and a long finish redolent of cinnamon and cloves. My tongue and lips were still tingling several minutes after I'd finished my sample, with a pleasant aftertaste not unlike a rootbeer-barrel candy.
Verdict: The younger Russell must have a fierier palate than his dad. This is one heavy-handed whiskey. That's not a knock, though, just a caution. If you like a bold drink – and I do – this is definitely one to sample. In fact, I think I'll go pour myself another shot. Who among us doesn't need to be Forgiven for something or other?