Pre-order now: 'Barrel Strength Bourbon'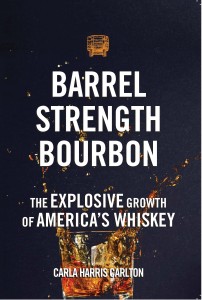 Carla Carlton, "The Bourbon Babe," is an award-winning bourbon journalist, speaker and celebrity. And now you can pre-order her first book, "Barrel Strength Bourbon: The Explosive Growth of America's Whiskey," at amazon.com. 
In an approachable, conversational style, "Barrel Strength Bourbon" provides an in-depth examination of the bourbon industry in Kentucky—the creation of an American spirit, its resurrection following Prohibition, its astronomical growth in the past five years, and its potential for the future. You'll get an up-close look at how bourbon is made, how the industry was built, and how the close-knit families of bourbon crafters continue to grow a multibillion-dollar global industry while staying true to their Kentucky roots.
Veteran Master Distiller Jim Rutledge calls "Barrel Strength Bourbon" "one of the best, and most accurate, books on Bourbon I've had the pleasure to read."
Carla is a founding member of Bourbon Women, an organization with more than 500 members in 23 states and three countries, and she serves on the Bourbon Board of Directors at Louisville's Party Mart store, where she makes single-barrel selections for exclusive bottling.
A third-generation Louisvillian, she comes by her taste for whiskey honestly: Her grandmother worked the bottling line at Seagram's in the late 1930s, and her grandfather grew his own mint for his yearly Derby Day julep.