#1 New Release in Whiskey Books: 'Barrel Strength Bourbon'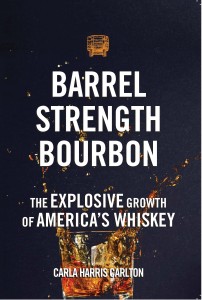 Carla Carlton, "The Bourbon Babe," is an award-winning bourbon journalist, speaker and celebrity. And now her first book, "Barrel Strength Bourbon: The Explosive Growth of America's Whiskey," is the Number One New Release in the Whiskey book category on Amazon. 
In an approachable, conversational style, "Barrel Strength Bourbon" provides an in-depth examination of the bourbon industry in Kentucky—the creation of an American spirit, its resurrection following Prohibition, its astronomical growth in the past five years, and its potential for the future. It takes an up-close look at how bourbon is made, how the industry was built, and how the close-knit families of bourbon crafters continue to grow a multibillion-dollar global industry while staying true to their Kentucky roots.
Veteran Master Distiller Jim Rutledge calls "Barrel Strength Bourbon" "one of the best, and most accurate, books on Bourbon I've had the pleasure to read."
You can order "Barrel Strength Bourbon" at Amazon, Clerisy Press and all online book retailers or purchase it wherever fine books are sold. In Kentucky, you'll also find it at Party Mart and Westport Whiskey & Wine and other gift shops.
Find an upcoming Barrel Strength book signing at my Amazon Author Page. Hope to see you soon!