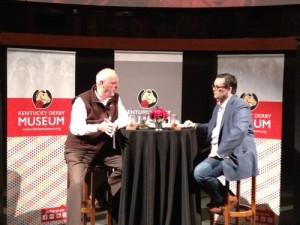 As part of a plan to embrace Kentucky bourbon as well as thoroughbred horse racing, the Kentucky Derby Museum kicked off a new Legends Series on Jan. 9.
Author Fred Minnick (right), hired in October by the Museum as its "Bourbon Authority," conducted a Q&A with Jim Rutledge (left), master distiller of Four Roses, and the distillery offered a tasting of four rare bourbons: the 2013 Limited Edition Single Barrel and Small Batch (the latter named 2013 American Whiskey of the Year by Whisky Advocate), the Single Barrel selected by Secretariat owner Penny for a bottling marking the 40th anniversary of her horse's Triple Crown sweep, and, most rare of all, the Single Barrel she chose for a decanter that ultimately was not released because of production issues. The Legends event was, in fact, the first public tasting of that particular bourbon – and if you weren't one of the 30 or so people there, let me tell you, you missed out on some good stuff.
Here's some other stuff you missed:
•The juice for Bulleit Bourbon is produced at Four Roses Distillery in Lawrenceburg, Ky.
•Jim Rutledge can pass judgment on a barrel based on just a drop on his tongue. That's how he once judged 64 barrels in one sitting: The cumulative amount equaled about two to three drinks.
•Jim's response when asked if Four Roses would ever produce a flavored bourbon: "Not while I'm here. If someone wants a honey drink or a blackberry drink, go ask a bartender to mix one – with real bourbon. … I'm old-fashioned… that's where I draw the line. Bourbon can stand on its own two legs."
The next Legends Series event is a March 6 Q&A and tasting with Ed Foote, the fifth and last master distiller for Stitzel-Weller. See you there.