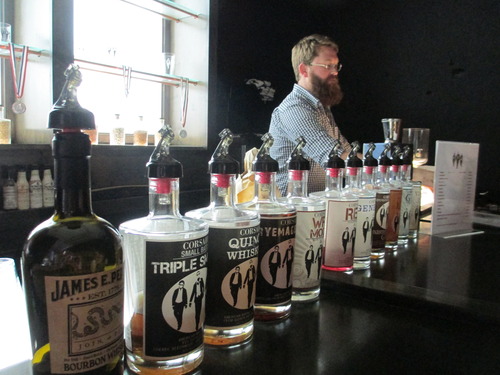 One of the advantages that craft distillers – sometimes called microdistillers – have over the big guys is the ability to experiment more with their product line. That's certainly the case at Corsair Artisan Distillery, as you can see in the photo above. I mean, quinoa?
I recently visited Corsair's operation in Bowling Green, Ky. (they also have a distillery in Nashville, Tenn.), to sample some of their inventive whiskeys, to get a stamp in my Kentucky Bourbon Trail Craft Tour passport and to check out progress on an expansion that will give the distillery a "front-door" presence on Fountain Square, the city's historic town center.
Currently, Corsair's entrance is a bit hidden, on the side of the building, below.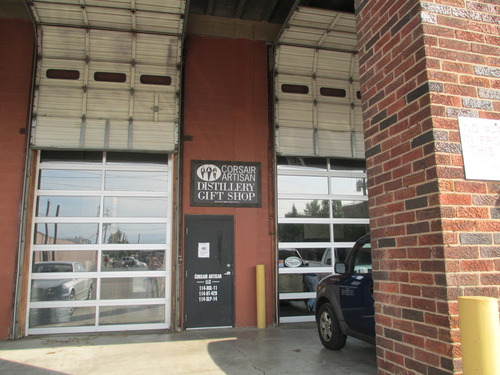 Inside, head distiller and distribution manager Clay Smith oversees the production of Corsair's various whiskeys and gins (and one bourbon, so far). There are usually about 10 products on the market at any one time, including the Triple Smoke Whiskey, the distillery's most popular brand, which is pot distilled from three fractions of malted barley, each smoked by a different fuel – cherry wood, peat and beechwood – and then aged in new charred oak barrels. It was named Artisan Whiskey of the Year by Whisky Advocate in January.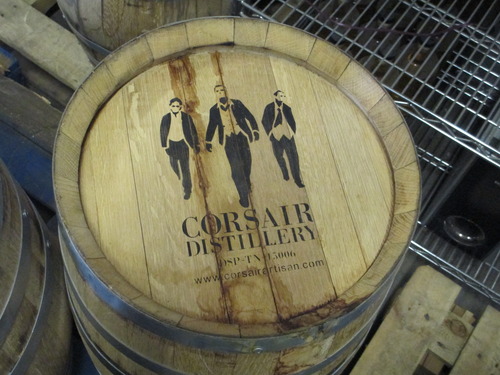 Smith is also overseeing the extensive renovation of the distillery's new space, which will give Corsair a larger gift shop and tasting bar, a gift shop and a nice lounge/waiting area. Below are some "before" photos (note how they cleverly changed the wording from the former tenant to say "Thank you for 'hopping' with us").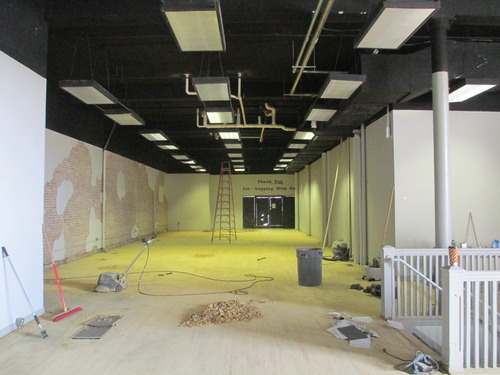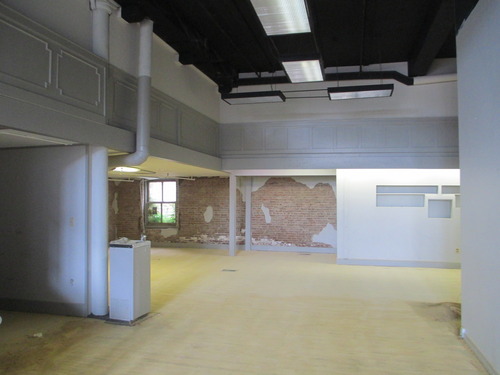 Corsair opened in Bowling Green five years ago as the brainchild of Darek Bell and Andrew Webber. They were working together on a biofuels project, Smith said, "and one of them said, 'I'd be a lot happier if that barrel was full of whiskey.'" They went to distillery school, then founded Cosair. The Nashville distillery opened two years later. Corsair was soon drawing attention and collecting medals for its innovative products – more than 70 over the past five years.
"Corsair is No. 1 in the nation in my eyes," Bill Owens, founder and president of the American Distilling Institute, told me recently. "They are producing more interesting things. Darek Bell is extraordinary."
Corsair plans to triple production by the end of the year, Smith said. The expansion of the Bowling Green distillery and a planned maltery in Nashville are "an investment in our future," he said. "We're in a long-term business. Things move very slowly. The 'whiskey boom' was a long time coming, and we want to keep it going."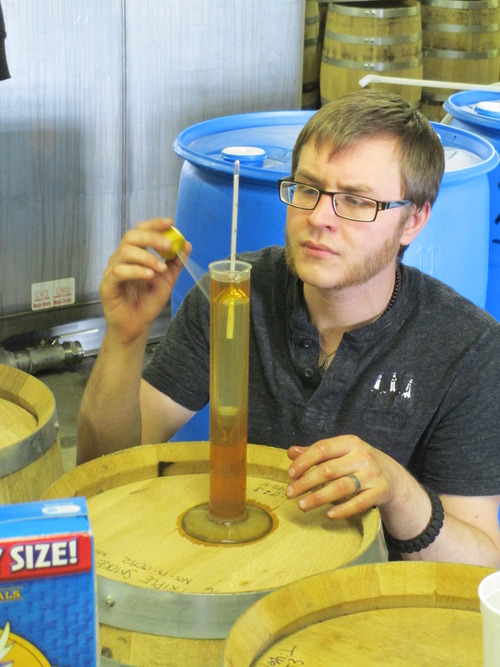 Junior distiller Aaron Marcum makes sure the Triple Smoke is 80 proof.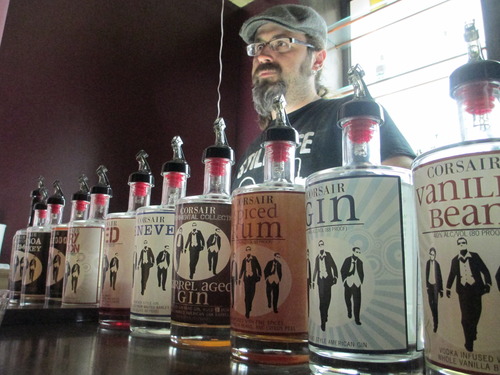 Clay Smith offers visitors a sample. (That Quinoa Whiskey is pretty good, by the way.)
Corsair's Bowling Green distillery is open for free tours and tastings from 10 a.m. to 6 p.m. Friday and Saturday. The Nashville distillery has a more extensive tour schedule (and charges admission). For all the details, click here.