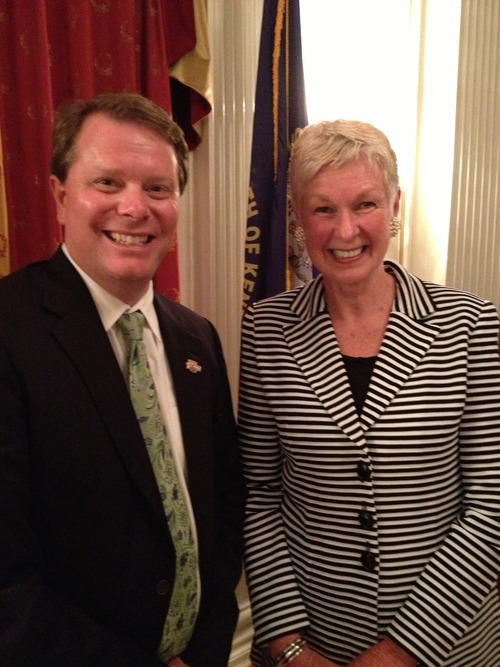 The first woman to ever serve on the Kentucky Distillers' Association's Board of Directors was Lois Mateus. She was appointed to the board in 1992 as the director from Brown-Forman, where she retired as senior vice president in 2008. KDA president Eric Gregory, above with Mateus, noted that other board members appointed that year included Jimmy Russell of Wild Turkeyand Bill Samuels Jr. of Maker's Mark.
Back then, Mateus' appointment as the first woman board member wasn't celebrated. "Our association and our board didn't recognize this pioneering achievement at the time, but it certainly made a difference in our industry, and that oversight is proudly being corrected tonight," Gregory said last Thursday at the Governor's Mansion.
That evening, the KDA and the Bourbon Women Association honored her with the first-ever Lois Mateus Networking Award. The award will be given annually, said Bourbon Women founder Peggy Noe Stevens, to a woman who has excelled in her profession by continuously building key relationships to contribute to the growth in her respective industry; broken through barriers to grow her career; contributed to the community through service and philanthropy; increased exposure for other women to grow their networking and career opportunities; developed creative partnerships and strategic alliances to further the growth of her respective industry; and become a role model for female professionalism.
In accepting the award, Mateus said that networking is close to teamwork and that those in the bourbon industry have long realized that "a rising tide lifts all boats." To illustrate her connectedness, she brought along the "smart phone" of 1992: her Rolodex.