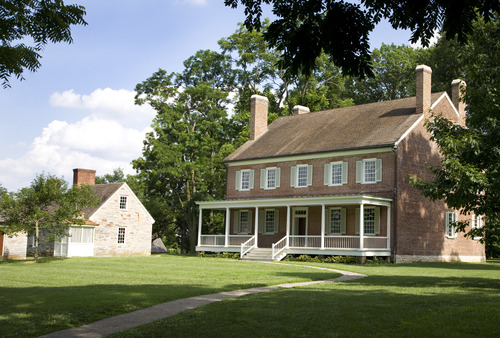 September is National Bourbon Heritage Month, and several local events are planned in celebration. Two of them will be held at Locust Grove, the historic home at 561 Blankenbaker Lane (between Brownsboro Road and River Road):
"The Old Fashioned: Theme and Variations on Louisville's Classic Cocktail" will be Thursday, Sept. 12, 5:30-7 p.m. ($35; $25 for Friends of Locust Grove). Joy Perrine and Susan Reigler, authors of "The Kentucky Bourbon Cocktail Book," will demonstrate the art of mixing the Old Fashioned, the bourbon-based cocktail said to have originated in Louisville. In addition to the well-known version made with muddled fruit and bitters, Joy and Susan will introduce participants to some modern variations. Admission includes tastings of all the drinks, along with hors d'oeuvres. Autographed copies of both Joy and Susan's book and of "The Old Fashioned: An Essential Guide to the Original Whiskey Cocktail" by Albert Schmid will be available for purchase.
"The Bourbon Bookcase" will be Saturday, Sept. 28, 1-4:30 p.m. ($10 in advance, $15 at the door; reservations will be taken starting today.) Meet the authors of recent books about bourbon, from histories of the great distilleries to cocktail recipes and great food pairings.  Browse through more than 30 books by local authors, including Mike Veach, Joy Perrine, Sally Van Winkle Campbell and Susan Reigler. There will be tastings and presentations, books for sale (with authors to autograph them), and a place to hang out and talk bourbon with the best.
To make reservations or get more information for either event, call 502-897-9845 or visit www.locustgrove.org.