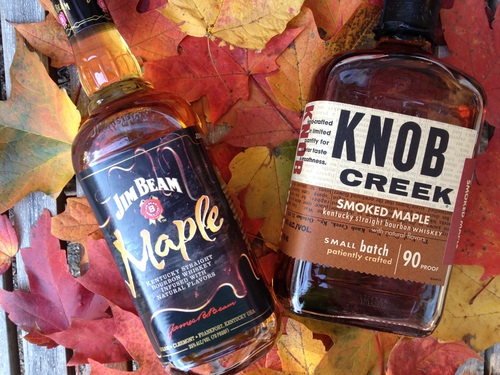 Knob Creek Smoked Maple
90 proof
Suggested retail price: around $30 for the 750ml
The story: This brand, Knob Creek's first flavored bourbon, was created in honor of Booker Noe, father of current Beam master distiller Fred Noe. "In addition to his love for crafting and distilling quality bourbon, he also enjoyed smoking meats in the smokehouse at his home and even crafting his own maple syrup from the sugar maples on the family property in Bardstown," Fred Noe says of his father in a Beam news release. "Smoked Maple brings these three flavors of smoke, maple and bourbon together to honor Booker's legacy and his quest for big flavor." The Knob Creek Smoked Maple follows the release of Jim Beam Maple, which I reviewed last month.
Aroma: Hickory smoke, maple, butterscotch, just a touch of vanilla.
Taste: Sweet maple on the front is joined by smoked wood and earthy spices mid-palate; the finish is long and warm, with maple overtones.
Verdict: Purists out there may scoff at the notion of flavored bourbon altogether, and generally I am with you. But as I noted in my review of the Jim Beam Maple, maple is one of the flavors you can find in some straight bourbons, so these flavored bourbon seem less forced than others. That being said, I much preferred the Knob Creek Smoked Maple to the Jim Beam. Those smoky notes add complexity, and the higher proof adds some heat. Whereas Jim Beam Maple tastes like maple syrup with a little buzz, the Knob Creek tastes like bourbon with amplified maple notes. The price is amplified, too: The Knob Creek is twice as expensive as the Beam Maple. But if you're looking for a nice after-dinner/dessert bourbon, go for the Knob Creek.