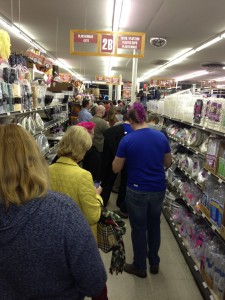 The increased interest in all things Pappy Van Winkle could be judged by the turnout for a lottery that Jerry Rogers held Monday night for the allotment at his Party Mart store on Brownsboro Road.
This was the third such lottery he's held. The first drew 60 people. The second one, in late April, brought 309 people to Party Mart. Monday night's crowd was more than double that. "This is the most people I've ever had in this store," Jerry announced on the PA system. "There are 640 of you! (quieter) Somebody please buy something."
All 600+ of us were hoping for the chance to purchase one of the 40 or so bottles of Pappy that Jerry had to offer: three each of the 23-year-old and the 20-year-old, a few bottles of 13-year-old rye, and single-digit amounts of 15-, 12- and 10-year-old. (I intended to report the exact number, but I lost count in all the excitement.) "I wish I could sell each of you a bottle," Jerry said. "But this is the best, fairest way I can think of to do this."
The line for tickets wound through all the aisles in the store, looking for all the world like we were waiting to ride the big coaster at Van Winkle World. Some people in line planned to sell their bottle on the secondary market if they got lucky. The guy in front of me just wanted to taste it. And the nice woman behind me wanted a Christmas present guaranteed to please her son-in-law. (Sorry, son, her number wasn't drawn. But give her major points for standing for two-plus hours to try.)
Others, myself included, wanted a crack at the elusive 23-year-old. It's the rarest of the Pappys because after 23 years of aging, there isn't that much bourbon left in a barrel. Alas, my number was not drawn.
Even so, the lottery added an element of fun to the experience. Some winners yelled "BINGO!" or screamed and jumped up and down. Others played it cool. Two guys behind me kept up a running commentary: "Ah, Sweatpants Guy got it!" "Handlebar Mustache Guy got it!"
For the most part, the crowd was remarkably orderly. As he prepared to start drawing tickets, Jerry asked for quiet, saying as he did in April, "Pretend this is church for a minute." Back then, in a reflection of the general fervor this bourbon inspires, someone replied: "I've been praying for an hour!"