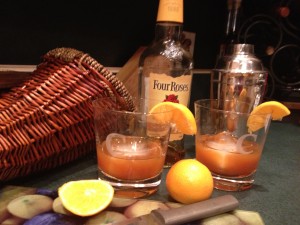 Mashable.com teamed up with Brooklyn bartender and food blogger Mallory Lance of Mallory's Kitchen to turn a turkey dinner into seven unique cocktails. I had to scroll quickly past most of them, because muddled turkey bouillon? Shudder. But this one had me at "pumpkin pie." (If you want to see the rest, click here.) Note that you'll need to make the pumpkin syrup ahead; it's easy but will need time to cool. 
Pumpkin Pie Old Fashioned
Ingredients: Bourbon, pumpkin spice syrup (below), bitters, orange peel.
Directions: Add 2 oz. bourbon, 3/4 oz. pumpkin spice syrup and a few dashes of aromatic bitters to a Boston shaker. Stir with a bar spoon for one full minute, then strain over a large ice cube. Garnish with a twist of orange peel.
Pumpkin spice syrup (original recipe by Mallory Lance)
Ingredients:
 •1 1/2 cups water
 •1 scant cup of sugar + 2 tbsp brown sugar
 •1/2 cup + 1 heaping tablespoon of pumpkin puree (make sure it is finely strained, or use Libby's out of the can)
 •Either 1/2 tsp pumpkin pie spice or: 1 pinch ground cloves + 1/4 tsp cinnamon + 1/8 tsp nutmeg+ 1/8 tsp ginger
 •1 tsp vanilla extract
Over medium heat, combine the water and the sugars. Stir until dissolved. Add the pumpkin and the spices and continue to stir constantly. Keep it over the heat for about 5-8 minutes, stirring well until it all comes together. Remove from heat and stir in the vanilla extract. Allow to cool significantly before pouring it into an airtight bottle. Store in the fridge.
I used Four Roses Yellow Label in the first batch, which was pretty good. But for the second batch, I decided to try a rye whiskey – Wild Turkey Rye, of course. As I suspected, the spice of the rye cut through some of the sweetness of the pumpkin syrup, resulting in a smoother sip. Turkey and pumpkin pie – it's like Thanksgiving dinner in a glass.   
(For a recipe for Pumpkin Spiced Latte using the syrup, click here.)