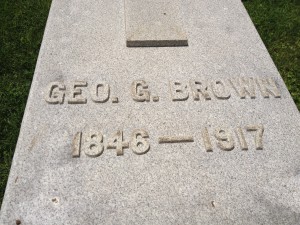 On Sunday afternoon, I capped off a whirlwind week of Bourbon Affair-related activities with a serene yet "spirited" tour of the final resting places of a dozen or so bourbon pioneers in Louisville's historic Cave Hill Cemetery.
Among them: George Garvin Brown, founder of Brown-Forman and creator of Old Forester, the first bourbon whiskey to be consistently sold in bottles; his eventual partner, George Forman; and his older half-brother, J.T.S. Brown, who was his first partner in Old Forester and later started J.T.S. Brown & Sons, which produced the whiskey that would be famously preferred by Fast Eddie (Paul Newman) in "The Hustler."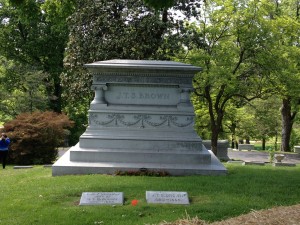 In the first such tour offered at Cave Hill, bourbon historian Mike Veach of the Filson Historical Society and J. Michael Higgs, coordinator of the Cave Hill Heritage Foundation, also shared stories of Paul Jones, below, founder of what is now Four Roses; Frederick Stitzel, who patented the barrel racking system still used in most aging warehouses; and W.L. Weller, whose company would eventually merge with Julian P. "Pappy" Van Winkle's A. Ph. Stitzel Distillery to form Stitzel-Weller.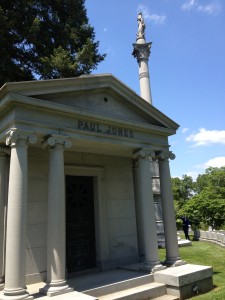 Pappy and his son, Julian P. Van Winkle Jr., are buried in Cave Hill. But there is no sign that they've been joined by the missing Pappy Van Winkle bourbon. Yet.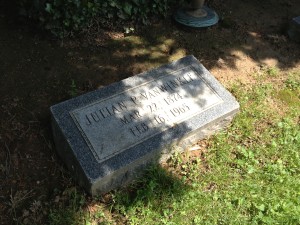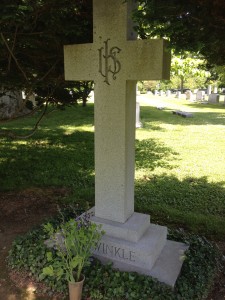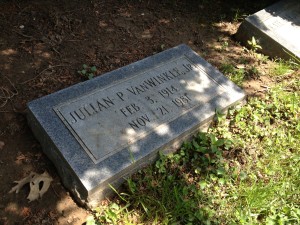 Near the end of the tour, we viewed the ornate marker of T. Jeremiah Beam, the son of Jim Beam, who was instrumental in growing that company into the Beam we know today. He is buried next door to Kentucky Fried Chicken's Col. Harland Sanders on what Higgs refers to as Cave Hill's "Party Road," since the inhabitants could have provided the fixings for quite a Derby party. Cemetery humor just kills me.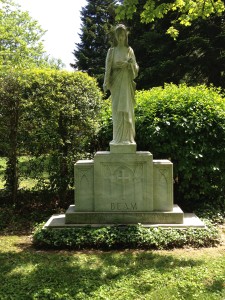 Veach said it is likely that he and Higgs will discover more bourbon connections before the next tour, which is scheduled for 1 p.m. Sept. 14. Tickets are $35. Click here for more information.