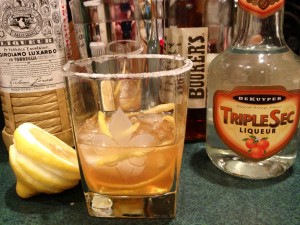 Today in New York's Belmont Park, California Chrome makes his run at history. Having won the Kentucky Derby and the Preakness, can he take the Belmont Stakes and end the 36-year Triple Crown drought? I don't know, but the word "drought" makes me thirsty. So I decided to come up with a bourbon cocktail to enjoy during the race.
First: Which bourbon? I took my inspiration from Chrome's owners, DAP Racing. The acronym stands for "Dumb-Ass Partners," which is what Perry Martin and Steve Coburn were called when they bought the relatively unimpressive mare that eventually foaled California Chrome. (Who's the dumb-ass now?) To honor the donkey on the back of the DAP racing silks I picked Booker's, a bourbon with a kick.
A drink for the Triple Crown must include Triple Sec, of course. That also makes a spicy, high-proof bourbon like Booker's a good match. At this point we could make a Bourbon Sidecar (2 oz bourbon, 1 oz triple sec, ½ oz fresh lemon juice shaken in a shaker with ice and poured into a chilled cocktail glass). That has three ingredients, one for each leg of the Triple Crown. But it didn't seem special enough, so I kept researching.
And I discovered a cocktail called a Crusta, said to have been invented around 1850 in New Orleans. According to mixologist Rick Turner on EscapeHatchDallas.com, this drink was "the missing link" between the first cocktails and drinks such as the Sidecar, the Margarita and the Cosmo. Before the Crusta, a "cocktail" contained only sugar, water, bitters, and some type of spirit. The Crusta added an acid, a sweet spirit and a weak spirit to that formula. Three things! I had a winner.
So below is my suggested cocktail. If California Chrome wins the Triple Crown, toast his success and your great racing acumen. If he falls short and the Crown goes unclaimed for a 37th year? Make it a double. And at least maybe you learned something.
The Chrome Crusta
2 ounces bourbon (Booker's or other high-proof brand) 
1/2 ounce triple sec
1/2 ounce maraschino liqueur (I used Luxardo)
1/2 ounce lemon juice
2 dashes orange bitters
Garnish: Lemon peel
The Crusta is one of the few cocktails that you garnish before you make the drink. Cut a lemon in half and juice; pare peel off. Moisten rim of a cocktail glass with the lemon and dip it in sugar, then curl lemon peel around inside of glass.
Combine all ingredients in a CHROME shaker. Shake well, strain into glass and add an ice cube or two. Riders up!
(UPDATE: Replace Triple Sec with sour grapes.)