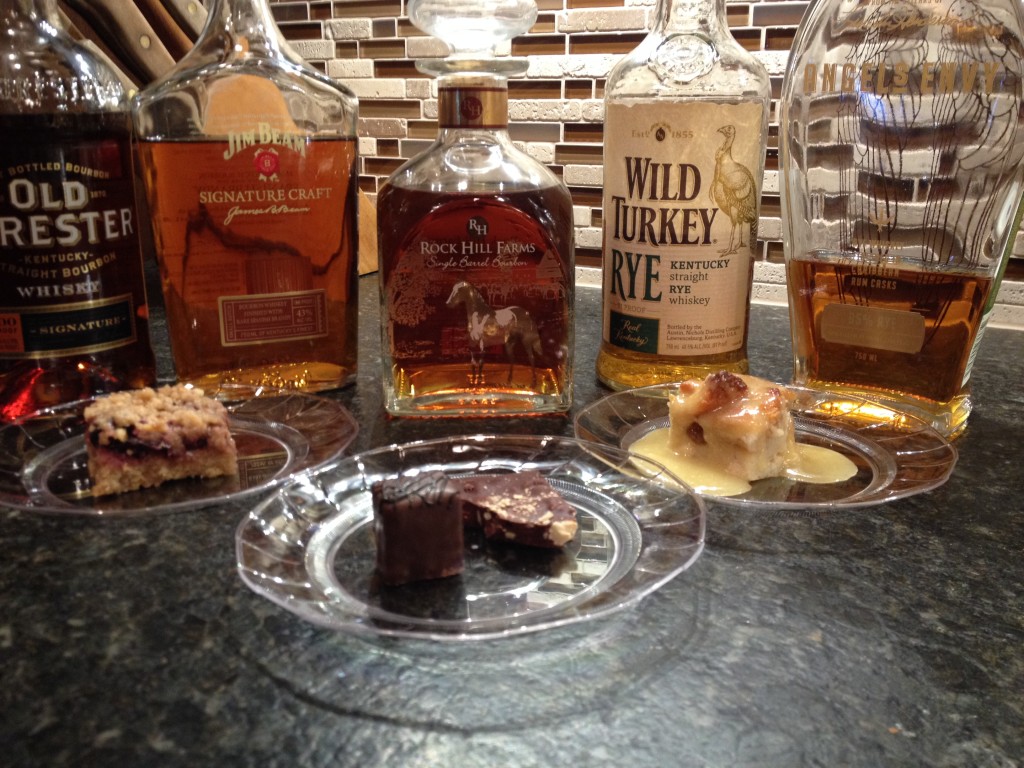 I belong to a sort of supper-club-with-bourbon-and-rye group that meets monthly. The member playing host either chooses a restaurant or cooks a meal and selects a bourbon- or rye-related topic for discussion (and consumption, obviously). Topics this year have included the exponential growth of the bourbon business; Texas bourbons; and bourbon cocktails. This month it was my turn. I'm not a big cook, but I do enjoy making desserts. So instead of considering dessert the finishing touch, I decided to make it the main course. I prepared three very different sweet offerings and paired a whiskey (or two) with each, showing the spirit's real versatility.
We started the evening with appetizers and Autumn Splendor, a seasonal bourbon cocktail (which I neglected to photograph in the frenzy of greeting guests and finishing last-minute tasks, but take my word for it, they were pretty).
Many bourbons have distinct fruit notes. To pick up on that, my first dessert course was a cherry crumble. I selected two pairings: Old Forester 100 proof, which has a hint of cherry and lots of vanilla but has a proof high enough to rein in the sweetness; and Jim Beam Signature Craft finished with Spanish Brandy, which added a rich, deeper note to the fruit. My guests were pretty evenly divided on which was better.
Cherry Crumble Pie Bars (adapted from Midwest Living)
Ingredients
2 cups all-purpose flour
1 ¼ cups finely ground almonds
3/4 cup packed brown sugar
1 cup butter, cut up
¾ /cup granulated sugar
1 tablespoon cornstarch
½ teaspoon finely shredded lemon peel
4 cups frozen red cherries, thawed and drained
½ teaspoon almond extract
Directions
Preheat oven to 350 degrees. Line a 13x9x2-inch baking pan with foil, extending the foil over the edges of the pan; set aside.
For crust, in a large bowl, stir together the flour, almonds, and brown sugar. Using a pastry blender, cut in the butter until mixture resembles fine crumbs. Remove 1-1/2 cups of the mixture; set aside. Press the remaining mixture evenly onto the bottom of prepared baking pan. Bake in the preheated oven for 15 minutes.
Meanwhile, for filling, in another large bowl, combine the granulated sugar, cornstarch, and lemon peel. Add cherries and almond extract; toss gently to combine. Spoon cherry filling over hot baked crust, spreading evenly (mixture will be wet). Sprinkle with reserved crumb mixture.
Bake about 40 minutes more or until filling is bubbly and topping is lightly browned. Cool in pan on a wire rack. Using the edges of the foil, lift the baked mixture out of the pan. Invert onto a baking sheet; remove foil. Invert again onto a cutting board. Cut into bars.
Dark chocolate is a natural pairing with bourbon, and the nuts in this bark also bring out some of the spirits' earthier notes. I poured my "go-to" bourbon for chocolate, Rock Hill Farms. The chocolate mellows out the bourbon and the bourbon lengthens the finish of the chocolate. (I also served a purchased chocolate-caramel-sea salt petit four.)
Chocolate Nut Bark (from Eating Well)
Ingredients
2 cups semisweet, bittersweet or milk chocolate chips, melted (see Tip)
1 ½ cups assorted nuts (I used hazelnuts, almonds and cashews), plus more for garnish
Preparation
Line a rimmed baking sheet with foil. (Take care to avoid wrinkles.) Combine melted chocolate and nuts in a medium bowl. Scrape the mixture onto the foil and spread it into an approximate 12-by-9-inch rectangle. Sprinkle with additional finely chopped nuts, if desired. Refrigerate until set, about 20 minutes.
Transfer the bark and foil to a cutting board. Use a sharp knife to cut into 1 ½-inch pieces. (You can store the bark in an airtight container in the refrigerator for up to 2 weeks.)
Tip: To melt chocolate, microwave on Medium for 1 minute. Stir, then continue microwaving on Medium, stirring every 20 seconds, until melted.
 For the final dessert course, I made bread pudding with a bourbon sauce. Bread pudding is very light and sweet, and I used Maker's Mark, a light, sweet bourbon, in the sauce as well, so I wanted something spicy in the glass to act as a counterpoint. I chose Wild Turkey Rye. The combination was outstanding. Several of my guests who weren't big bread pudding fans even said the pairing made them reconsider. As an experiment, I also offered a pour of Angel's Envy Rye finished in Rum Casks. With its brown-sugar flavors, it was a hit with those who like a sweeter dessert profile.
Bread Pudding with Bourbon Sauce
Ingredients
3 cups stale French bread, cut in 3/4-inch cubes
2 cups milk
2 eggs
1 cup sugar
1 tablespoon vanilla extract
1/2 teaspoon cinnamon
4 tablespoons butter, melted and slightly cooled
1/2 cup golden raisins
 Bourbon sauce:
2 egg yolks
1 stick butter, not margarine
1 cup sugar
1/3 cup bourbon whiskey, to taste (I used Maker's Mark)
Directions
Preheat oven to 350 degrees. Place bread crumbs in a bowl with milk and squeeze with your hands until bread is saturated with milk.
With an electric mixer on high speed in a separate bowl, beat eggs with sugar until thick and pale. Stir in the vanilla, cinnamon, butter and raisins, then add the soaked bread crumbs to the egg mixture and stir well. Let stand for 10 minutes. It is important to allow the bread to absorb the egg mixture or the crumbs will float to the top during baking, leaving a layer of custard on the bottom of the dish.
Transfer the mixture to a greased 8-by-8-inch baking dish. Bake until firm, or until a knife inserted in the middle comes out clean, about 50 minutes. Let cool slightly.
Bourbon sauce:
Meanwhile, near the end of the baking time, make the sauce. With an electric mixer, beat egg yolks until thick and pale. In a saucepan, melt the butter and sugar. Pour the butter and sugar mixture over the egg yolks, beating constantly with the mixer, until well thickened. Stir in bourbon by hand. Serve the pudding warm with vanilla ice cream if desired. Pass the hot bourbon sauce separately.
But wait, there's more
We weren't finished yet. As a final touch, I put a scoop of vanilla ice cream in a rocks glass and provided each guest with a shot of Rivulet Pecan Liqueur to pour over it. Dessert nirvana achieved.