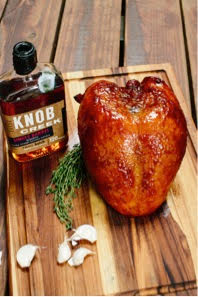 With Thanksgiving right around the corner, you might be thinking, How can I incorporate even more bourbon into my celebratory feast? The folks at Knob Creek sent along this recipe created by celebrity chef Michael Symon in which the turkey is basted with a glaze made with Knob Creek Single Barrel Reserve. I have not yet tested the recipe, but that glaze sure sounds delicious. To finish your meal with even more bourbon, see my recipe for Drunken Pecan Pie.
KNOB CREEK SINGLE BARREL RESERVE GLAZED TURKEY
Serves 6
INGREDIENTS
1 bone-in whole turkey breast, about 6-7 lbs.
Kosher salt
Freshly ground black pepper
3 cloves garlic
1 small bundle of fresh thyme
Zest of 1 lemon
1 teaspoon paprika
½ cup olive oil
PREPARATION
Season the turkey with kosher salt and freshly ground black pepper.
Place turkey breast in a gallon-si8zed bag and drizzle with olive oil, coating well.
Add garlic cloves, thyme, lemon zest and paprika.
Seal the bag and rub in the herbs and spices evenly.
Refrigerate overnight.
The next day, remove turkey from the marinade and let the chill come off, about 30 minutes.
Preheat your grill to medium high heat, adding charcoal to only one side.
When the grill is hot, place turkey breasts on the side with no coals, skin side up and close the lid.
After about 45 minutes, add a small handful of charcoal to keep the grill hot and brush the turkey with the Knob Creek Single Barrel Reserve glaze (recipe below).
Put lid back down and cook for another 45 minutes, brushing once or twice.
Check the turkey by putting a thermometer through the thickest part of the breast. It should read 165 degrees.
Total cooking time should be 1 ½ to 2 hours.
Brush the turkey with the Knob Creek glaze once more before removing it to a platter.
Tent the turkey with foil and let it rest at least 10 minutes before slicing.
KNOB CREEK SINGLE BARREL RESERVE BOURBON GLAZE
INGREDIENTS
4 cups fresh squeezed orange juice
1/2 cup fresh squeezed lime juice
1 cup Knob Creek Single Barrel Reserve Bourbon
1 habanero pepper
1 cup brown sugar
PREPARATION
Combine all ingredients in a heavy bottomed sauce pot, place over medium high heat and bring to a gentle boil.
Reduce the heat to medium low and reduce boil, stirring occasionally for about 1 hour, or until thickened.
Remove from heat, take out the whole habanero and set aside.