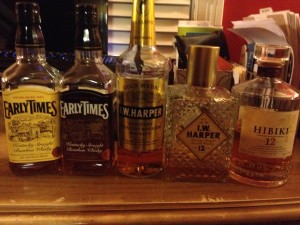 The bourbon appreciation group I belong to has offered some wonderful tasting opportunities this past year, but we saved the most unusual one for December: Bourbons available only in Japan (plus a blended whiskey made there).
We sampled Early Times yellow label and bronze label and two I.W. Harper offerings (check out the gorgeous packaging on the 12-year-old), as well as Hibiki 12, a blended whiskey that is made in Japan.
The Japanese love bourbon. Japan has always been a strong export market for the spirit. Japan kept Four Roses straight bourbon alive while it was available only as a blended whiskey in America, and Kirin brought it back home when it purchased Four Roses in 2002. Another Japanese company, Suntory, now owns Jim Beam and Maker's Mark.
The most interesting thing I learned at our meeting is how the Japanese traditionally take their bourbon: They pour a shot into a tumbler and then fill it with water. That would further dilute these bourbons, which to my Kentucky palate were already tame. Most of them were 80 proof, the minimum proof for bourbon; I don't think any of them topped 86 proof. The Early Times Yellow Label in particular, at 4 years old, was very corn-forward with a very short finish. The Bronze improved upon that a bit, but the I.W. Harper 12 was my favorite – much more complex, with more spice notes and a warm finish. I didn't care much at all for the Hibiki, which had more of a Scotch flavor profile.
All in all, it was a rare chance to experience the way that bourbon, such a big part of Kentucky culture, is appreciated by another culture.