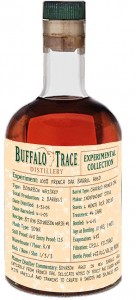 90 proof, 10 years old
$46.35/375ml suggested retail price
The story: In its latest experimental release, Buffalo Trace Distillery created two different barrel types, one made entirely of French oak, and another using the usual American white oak staves with barrel heads made of French oak. Both were made from staves that had been air-dried for six months and were charred for 55 seconds, then filled with Buffalo Trace Rye Bourbon Mash No. 1, the same mash bill used for Buffalo Trace bourbon, Eagle Rare and George T. Stagg. Master Distiller Harlen Wheatley noted that the barrel with the French oak head only yielded a bourbon with "more of a smoky oak and tannin flavor profile" than the barrel made entirely of French oak. Buffalo Trace kindly provided me with small samples of each, which I tested against each other and against regular Buffalo Trace. Read my tasting notes on the 100% French Oak Barrel Aged Bourbon here, and read on for my notes on the barrel with the French oak head and white oak staves.
The aroma: With the first whiff, you can sense more complexity than the sample from the French oak barrel. It's still sweet, but there is more spice (cinnamon) and more oak. This sample is much closer to the nose of Buffalo Trace, but still not as complex as that bourbon.
The taste: Soft and mellow; while it does have notes of vanilla and some tannin, I found it to be not very sweet, nor very spicy. I didn't pick up on any "smoky" oak. Short finish.
The verdict: The most interesting aspect of this experiment to me was the extent to which the barrel head alone contributes to the flavor of bourbon. This bourbon profile was much more like that of traditional Buffalo Trace than the sample from the French oak barrel was; however, to my palate, neither is as good. My advice: Take the $46.35 you'd spend on this 375ml, add a few dollars and buy two bottles of Buffalo Trace. You'll have four times the bourbon and 10 times the flavor.