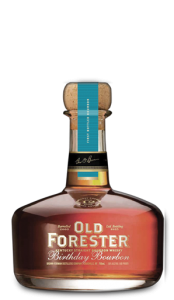 100 proof, 12 years old
$69.99/750ml suggested retail price
The story: Each year on Sept. 2, in honor of founder George Garvin Brown's birthday, Old Forester releases a limited-edition, 12-year-old vintage-dated expression. This year's lot of barrels were filled on June 13, 2003, and in a departure from the norm, the entire lot matured in the same warehouse location, rather than in multiple places. Because that location was near a window and close to one of the ducts that Old Forester uses to heat cycle the warehouse, the barrels were exposed to very high temperatures, resulting in intense flavors. "This is the biggest Birthday Bourbon yet," master distiller Chris Morris told me during a chance meeting at the very end of August. "It's very different, with lots of spice from the wood." A few days later I purchased a bottle of my own; here are my tasting notes.
The aroma: Bold nose, with lots of oak and nuts underlined by char and a campfire note, and laced through with just a hint of botanicals.
The taste: Chris was right – this is the spiciest Birthday Bourbon I can recall. The nuttiness from the nose continues with a definite pecan note; mid-palate, there's some cocoa and other baking spices. The mouthfeel is fairly dry, but the finish is long and warm, with a lingering cinnamon tingle.
The verdict: This is one big Birthday Bourbon. It packs more of a punch than previous editions, but I wouldn't add ice or water. I'd drink it neat, savoring it with dessert, perhaps, or as a nightcap on the long wintry evenings to come.