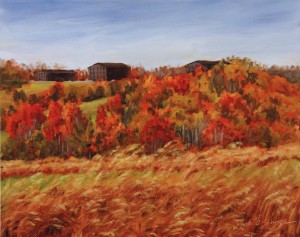 For the past year, Maker's Mark has been working with Louisville artist David Schuster, the distillery's 2015 Artist in Residence, to create an art display that showcases the beauty of Maker's Mark Distillery, the bourbon made there and the people who enjoy it. (Louisville residents may know that Schuster has a gallery next to Garage Bar in NuLu.)
Now Maker's Mark is inviting you to come to Loretto and celebrate the completion of Schuster's work.
At a 2 1/2-hour event on Friday, Nov. 6 (4:30-7 p.m.), you can meet the artist, enjoy some appetizers and bourbon, and view the paintings, which progress through the four seasons. You can come and go as you like, or you can take a guided tour that will include the paintings, which are located throughout the distillery. (Hint: Wear comfortable shoes.) Tours will depart at 5, 5:30, 6 and 6:30 p.m. You can reserve a spot when you arrive.
The event is free, but Maker's is asking that guests RSVP at this link.