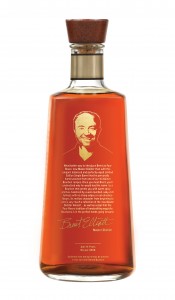 Barrel strength (this sample, 116.8 proof); 14-year-old OESK recipe
$125/750ml suggested retail price
The story: This limited-edition barrel-strength bourbon is the first solo release by Brent Elliott, who became Four Roses' master distiller last fall after the retirement of Jim Rutledge. As Four Roses' director of quality, a title he will retain, Brent evaluated bourbons in the tasting lab and participated in selecting barrels for limited releases, but this is the first one to have his name–and face!–on it. Four Roses kindly supplied me with a sample of Elliott's Select, which will be available in retail outlets in June, for this review.
The aroma: Very sweet. Lots of vanilla, with a hint of orange/citrus and an herbal/grassy note.
The taste
: This one goes straight down the center of the palate, unleashing lots of pepper along the way: white pepper in the front, black pepper in the back. I picked up some of the vanilla promised by the nose, but mostly baking spices like nutmeg. A few drops of water intensified the fruit note in the nose, and I
tasted the apricot that Elliott's own tasting notes described. But the bourbon was still plenty spicy, with lingering mint in the finish. 
The verdict: The "K" in the OESK recipe is Four Roses' "light spice" yeast strain, so I expected some heat, but not nearly this much, especially since the E is the distillery's low-rye mash bill. Adding water brought out more flavors, but I still found this limited edition to be less complex, and more fiery on the finish, than previous single barrels from Four Roses. If you like a peppery pour, you'll enjoy this, but I'll use my $125 to buy three or so bottles of regular ol' single barrel.