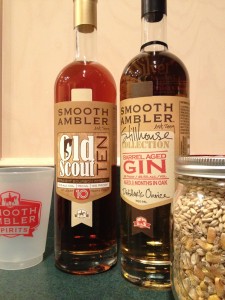 UPDATE: In December 2016, Pernod Ricard purchased a majority stake in Smooth Ambler.
100 proof; at least 10 years old
$49.99 suggested retail price/750ml
The story: Smooth Ambler Spirits is a distillery and bottler in Greenbrier County, West Virginia. In addition to distilling gin and vodka, they also source bourbons and ryes, meaning they blend them from barrels they've bought from other producers, cut them to the desired proof and bottle them. They are also currently aging bourbon of their own making. As an introduction, Smooth Ambler kindly sent me a bottle each of Old Scout Ten and Stillhouse Collection Barrel-Aged Gin for review, along with some of the grains used to make many of their in-house spirits, a box of bourbon balls made with Old Scout Bourbon by West Virginia company Holl's Chocolate, and a couple of Smooth Ambler party cups carrying Faulkner's observation that "Civilization begins with distillation." Today I'll review the bourbon.
The aroma: Lots of corn and sweetness, fairly light – not much alcohol burn.
The flavor: The corn continues to dominate, along with some caramel and vanilla notes; the rye kicks in mid-palate with a burst of mint, but it's never overpowering. The finish is short and rather dry, carrying some tannin from the oak and residual mint.
The verdict: This is a light, easy-sipping bourbon with a fresh, sweet flavor profile; I wouldn't have guessed that it was 10 years old (and since it's a blend, some of it may be even older). While it didn't strike me as terribly complex at first, I found that a second pour after the bottle had been opened for a day or two revealed a few more layers. I will put in an unreserved plug for the Holl's bourbon balls: Blended with caramel, they were different from any other bourbon balls I've had, and filled with buttery goodness. Find them on the Smooth Ambler website here.