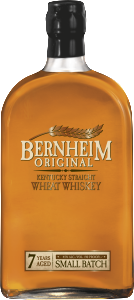 90 proof; 7 years old
$29.99/750ml
The story: Heaven Hill has changed the label on its Bernheim Wheat Whiskey to carry an age statement – the exact opposite of what some brands have done recently. When Bernheim was launched in 2005, it was the first new style of American whiskey to be introduced since Prohibition. Then as now, it is made using a mash bill of 51 percent soft winter wheat with a balance of corn and barley and bottled from dumps of 100 or fewer barrels. The addition of the age statement is intended to lift the brand profile by giving it "added gravitas," the distillery said in a news release. Of course, it's what's inside the bottle that really matters. It had been a while since I'd tried Bernheim, so the folks at Heaven Hill obliged me with a sample for this review.
Aroma: Vanilla, caramel, cereal grain (animal crackers!), slight whiff of toasted oak/char
Taste: Very sweet on entry, warming to a white pepper but never getting hot. Light profile, with butterscotch and toasted oak mid-palate and a soft, almost syrupy mouth feel. Short, smooth finish.
Verdict: If you enjoy wheated bourbons such as Maker's Mark, you will like this, but you'll find it less complex. Its unusual mash bill is certainly a conversation starter, with a price that keeps it from being an extravagance. Its light, not-too-sweet profile could make it a nice sipper for hot summer evenings, although I would recommend drinking it neat, as water or even ice will dilute it too much. I plan to try it in cocktails, where its mellow profile won't overpower the other components.