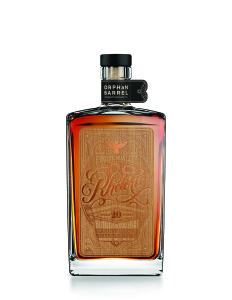 20 years old; 90 proof
Suggested retail: $85/750ml
The story: Rhetoric is the third release from the Orphan Barrel Whiskey Distilling Company (aka Diageo). Based in Tullahoma, Tenn., Orphan Barrel seeks out "forgotten" barrels of whiskey from around the world. Like the first two releases. Barterhouse (20 years old) and Old Blowhard (26 years old), Rhetoric was found in the old Stitzel-Weller warehouses in Louisville and was distilled in both the New and Old Bernheim distilleries. It has the same mash bill as well: 86 percent corn, 8 percent barley and 6 percent rye. Apparently there is quite a bit of it, as Orphan Barrel plans to release it once per year, beginning with this 20-year-old expression, creating a collectible series of whiskies. I was not hugely impressed with the first two Orphan Barrel releases and approached this one with some skepticism.
The aroma: Sweet, with very little alcohol burn and no wood tannin; vanilla; caramel corn.
The taste: A tingle on the front of the tongue warms into a nice blend of maple, dried fruit and toast; the long, smooth finish leaves you with the taste of dark chocolate.
The verdict: At the risk of evoking "Annie," this is my favorite Orphan by far. It's much more complex and full-bodied than the Barterhouse, and unlike the Old Blowhard, which I found overpoweringly woody, the Rhetoric has no tannin whatsoever. It's remarkably smooth for a bourbon that has spent 20 years in the wood – in fact, my drinking companion, no fan of older iterations, declared it his favorite aged bourbon yet. The word "rhetoric" means the use of persuasive speaking or writing, often with no sincerity behind it. The Orphan Barrel project is definitely a genius marketing idea for moving some old whiskey – but in this case, they've backed up their Rhetoric with a solid pour.