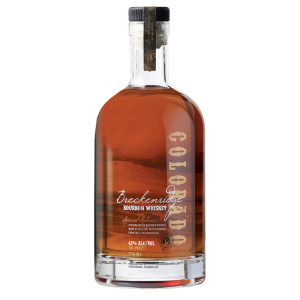 86 proof; 2 to 3 years old
The story: Breckenridge Bourbon is made at Breckenridge Distillery in Colorado using, as the label says, "snowmelt from the Rocky Mountains" and a high-rye mash bill (56 percent yellow corn, 38 percent green rye, 6 percent unmalted barley). It has won several awards, including one of only three gold medals awarded at the 2011 International Wine and Spirits Competition in the United Kingdom. I had a chance to try it at the Old Kentucky Bourbon Bar in Covington, Ky., recently. Read on for my take.
The aroma: Lots of fresh-sawn wood notes and sweet, buttery corn; not much rye influence considering the mash bill.
The taste: Maple, corn syrup, a hint of cinnamon and a tinge of white pepper. There is a pronounced wood note, almost like cedar. Fairly thin mouth feel and a short finish that leaves little behind.
The verdict: Sorry, Brits: I would not list Breckenridge Bourbon as one of my top three bourbons in the world. It's not a bad pour, it's just not terribly complex, probably owing to its youth, and it doesn't have the spicy kick of other high-rye bourbons I've enjoyed, possibly because of its lower proof. For me, this would be a nice start-the-evening bourbon, but certainly not the last word.