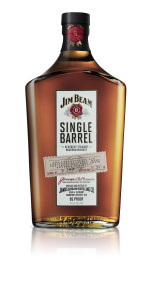 95 proof; no age statement
$35/750ml
The story: Jim Beam is one of the best-selling bourbons in the world. It's pleasantly drinkable at a light 80 proof and not too pricey. But those are not qualities that appeal to those who are seeking something distinctive in the ever-expanding bourbon universe. While Beam does make several well-regarded small-batch bourbons (Booker's, Baker's, Basil Hayden and Knob Creek), it had no "premium" offering under the Jim Beam label. That started changing last year with the release of the first two products in the distillery's Jim Beam Signature Craft series, a 12-year-old small-batch and a bourbon with Spanish brandy added to it, both at 86 proof. And now, for the first time ever, the distillery has released a single-barrel Jim Beam bourbon. Less than 1 percent of Jim Beam's barrels make the cut, the distillery says, and the bourbon is bottled at 95 proof – a nod to the distillery's founding in 1795. Beam kindly sent me a bottle of Single Barrel for this review.
The aroma: Nice buzz of alcohol; sweet maple with lots of smoky char and bacon.
The taste: Corn/grain, toasted oak, maple syrup, dried fruit. A kick of spice on the front and mid-palate smooths out into a nice, long minty finish.
The verdict: "A kick of spice" is something I have never written about Jim Beam. I've always considered the Original Recipe Beam rather bland, but the Single Barrel pulls out the individual notes and amps them up into something interesting and complex. If you like Jim Beam, you'll like this. If you don't like Jim Beam, you'll like this.