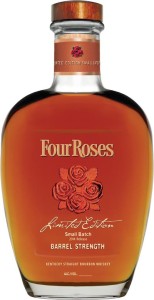 Blend of four recipes from barrels aged 9 to 13 years
120.3 proof (barrel strength); $90/750ml
The story: In both 2012 and 2013, Whisky Advocate magazine named Four Roses' annual Limited Edition Small Batch Bourbon "American Whiskey of the Year." This latest iteration combines four of the distilleries' 10 recipes: 13-year-old OBSV (delicate fruit, spicy and creamy), 12-year-old OESV (delicate fruit and low rye mash bill), 11-year-old OBSF (high rye mash bill, yeast with herbal essences) and 9-year-old OBSK (high rye bill and spice). Approximately 11,200 bottles will hit retail shelves mid-month. Four Roses kindly supplied me with a sample for this review.
The aroma: Quite a bit of alcohol buzz; char leavened with some vanilla; fresh mint; just a hint of citrus.
The taste: Big and bold from the tingling start to the nutty, somewhat dry finish. Initial notes of maple syrup and pecans are joined by cloves and a slightly tannic tang. Viscous mouthfeel – this bourbon leaves long legs in the glass. The long finish continues to smolder all the way down, powered by the rye and the K and V yeast strains.
The verdict: It didn't surprise me to see that Four Roses master distiller Jim Rutledge chose recipes with a lot of spice for this blend. I've participated in a couple of tastings/barrel selections with him, and he almost always goes for the sample with the most kick. Usually, though, that kick is tempered with lighter, creamier notes for an extremely balanced sip – as with last year's 125th anniversary edition, which was rightly described as "epic." This year's Limited Edition is the most rye-forward, hottest Four Roses I've ever tasted, and I found its finish somewhat harsh. (I don't recommend adding an ice cube, however; while that tamped down the fire, it also muddied the flavors.) If you love bourbon with a burn, or very spicy rye whiskey, you might like this a lot. But for me, it lacks the balance that I've come to expect from Four Roses bourbon. American Whiskey of the Year? Two out of three ain't bad.