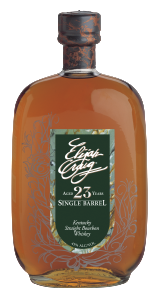 23 years old, 90 proof
$199.99/750ml
The story: This limited-edition, rye-based bourbon follows Heaven Hill's 2012 release of Elijah Craig 20-Year-Old and 2013 release of EC 21-Year-Old, both of which quickly sold out. The barrels were selected from the middle floors of distillery's Nelson County, Ky., rickhouses, where they were protected from the extreme temperatures that can cause bourbon aged for this long on higher floors to pick up too much wood tannin. The 23-Year-Old will be available at select retail shops and bars in top bourbon markets; Heaven Hill kindly provided The Bourbon Babe with a sample for this review. I thought the 21-Year-Old was terrific, but as one who generally prefers a younger bourbon, I approached this year's edition with cautious optimism.
The aroma: As with last year's bottling, I was again struck by the beautiful color of this bourbon. Raising the glass, I detected more wood (cedar) on the nose than I did with the 21-Year-Old, which I expected, but it was not overpowering. I also picked up sweet vanilla, dried fruit and an interesting herbal note, which, when combined with the spice from the rye, resulted in an aroma almost like eucalyptus.
The taste: As with the 21-Year-Old, the rye gives this more heat than you might expect from a 90-proof bourbon – but unlike last year's edition, it's all from the mid-palate back. This one is quite cool on entry, with some nutty wood notes, but soon heats up, bringing rich, buttery toffee and some nutmeg. The burn dissolves into a nice warming finish tinged with mint. leaving me with a sweet/spicy sensation much like root-beer-barrel candy. What it didn't leave me with was any bitter tannic pucker – it's a very balanced pour.
The verdict: The Heaven Hill team knows how to pick 'em. As I mentioned before, I really liked last year's 21-Year-Old. I still do, but in a head-to-head tasting, I found – to my surprise, I'll admit – that I preferred the 23-Year-Old. If you're looking for a special-occasion bourbon, this would fit the bill (assuming, of course, that $199.99 fits your budget). We've seen several "extra-aged" whiskeys rolled out over the past few years to slake consumers' thirst for something different, but unlike many of those, this Elijah Craig is one older bourbon that doesn't show its age.