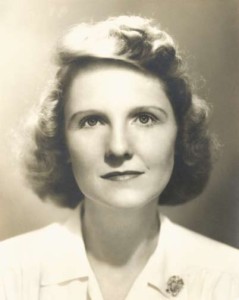 One of the great women in the bourbon industry, Margie Mattingly Samuels, will be inducted into the Kentucky Bourbon Hall of Fame during the Kentucky Bourbon Festival in Bardstown next week. Her induction on Sept. 17 will make her the first woman directly connected with a distillery to be so honored, and only the fifth woman ever.
As Maker's Mark fans know, Margie Samuels collaborated with her husband, Bill Samuels Sr., on the creation of a new kind of bourbon that used wheat, rather than rye, as the secondary grain. She baked bread using a variety of grains so that Bill could conduct blind taste tests, eventually settling on red winter wheat. But her contributions went far beyond that.
"Aside from relinquishing her kitchen for use as my grandfather's test lab, Margie was the one who came up with the distinctive design of the Maker's Mark package – from the unique bottle shape to the name," her grandson Rob Samuels, chief operating officer, wrote in an email to Maker's Mark ambassadors. "Inspired by a pewterer's mark, Margie suggested Maker's Mark. She even came up with the original design for the label. She liked things simple and chose black hand-lettering on cream-colored paper, putting her calligraphy skills to good use.
"Margie crafted the 'maker's mark,' beginning with Star Hill Farm, the family property, and then adding the S for Samuels and the IV that symbolizes the generations of our family's distillers. She also insisted the trademarked symbol be molded into the glass of each bottle of Maker's Mark. Inspired by her collection of 19th-century bottles of cognac, she got out the family deep fryer, filled it with wax and dipped the first bottles right in the kitchen. The family deep fryer would never be the same!"
As more and more brands crowd the shelves, Maker's Mark's distinctive red wax still stands out in bars and liquor stores. In addition, Margie Samuels (who died in 1985) insisted that all of the buildings at the Victorian-era distillery the family bought in Loretto, Ky., be restored and readied to welcome visitors. The wisdom of this decision becomes clearer every year as the number of visitors on the Kentucky Bourbon Trail grows exponentially.
To celebrate Margie Samuels' Hall of Fame induction, Maker's Mark will give complimentary distillery tours on Sept. 17 to all those visitors who wear red shirts and mention her name.
For a clever slideshow about how Margie and Bill Sr. compromised to create Maker's Mark's distinctive packaging, click here.
Cheers, Margie!