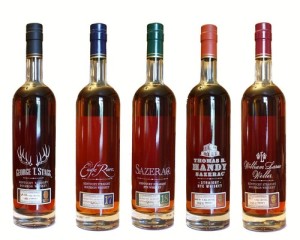 Every fall, Buffalo Trace Distillery in Frankfort, Ky., releases a collection of five limited-release whiskeys – George T. Stagg, Eagle Rare 17 Year, William Larue Weller. Sazerac Rye 18 Year and Thomas H. Handy Sazerac Rye – that have become cult favorites with aficionados. This year's crop should hit stores late this month or early in October, with a suggested retail price of $80 each per 750ml. They will go fast, so it's not too soon to start looking/buddying up to your favorite local merchant. But if I can purchase only one, you might be asking, which one should it be? My friends at Buffalo Trace sent me 50ml samples to help answer that question. Doing tasting notes on five very different whiskeys in one sitting is not easy, but I am nothing if not devoted to my readers.
Eagle Rare 17-year-old (90 proof)
Aged on second, third and sixth floors of Warehouses I and K
The aroma: Very light, no alcohol burn; vanilla laced with wintergreen
The taste: Very front-forward. Sweet and a little buttery until the minty, somewhat flat finish; reminded me of nothing so much as those hard candies you get at Christmastime that look like ribbons.
George T. Stagg (138 proof)
Aged 16 years (distilled spring 1998); barrels selected from Warehouses C, H, I, K, L, P and Q; uncut and unfiltered
The aroma: Again, no burn, which was a bit surprising considering that high proof (last year's was 128.2). Brown sugar, bacon, leather – sweet and savory.
The taste: Very, very smooth – again, I would never have guessed this was 138 proof. Full and warming, with flavors of cinnamon, vanilla and coffee, and again a trace of that savory bacon. The tingle stays on the tongue – there is nothing harsh or fiery in the long finish.
William Larue Weller (140.2 proof)
This is the strongest Weller release ever. The wheated recipe bourbon was aged on the second, third, fourth and sixth floors of Warehouses D, K and L for 12 years (distilled spring 2002) and is uncut and unfiltered.
The aroma: Buttered bread, very little heat
The taste: White pepper, dark molasses, toffee; brief brightness on the mid-palate but increases in heat as it goes down, even after swallowing. Smooth, but not as smooth as the Stagg.
Sazerac 18-Year-Old (90 proof)
Aged in Warehouse K
The aroma: Herbal, lots of rye – almost a beer-like aroma
The taste: Licorice, all-spice, rather flat and metallic to my taste; long, dry finish. Not nearly as sweet as last year's version.
Thomas H. Handy Sazerac Rye (129.2 proof)
This 6-year-old (distilled spring 2008) uncut, unfiltered straight rye whiskey was aged on the fifth floor of Warehouse M.
The aroma: Very balanced between sweetness and spice
The taste: Peppery on the front, transitioning to an herbal character mid-palate, this rye finishies warmly with clove, coconut and mint.
The verdict: The clear-cut winner for me this year is the George T. Stagg, followed by the Eagle Rare and the Thomas H. Handy Sazerac Rye. Happy hunting!