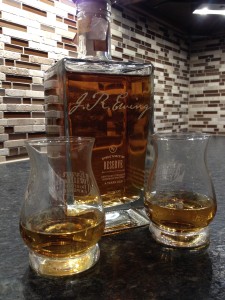 80 proof; 4 years old
$34.95/750ml
The story: J.R. Ewing, the devious oil man memorably portrayed by Larry Hagman on "Dallas" in the 1980s and again on the reboot that debuted in 2012, enjoyed his bourbon. And now he has his very own brand. In conjunction with the start of the TNT version's third season earlier this year, Warner Bros. teamed with an independent blender to produce J.R. Ewing Private Reserve. The blend of 4-year-old bourbon from an undisclosed Kentucky producer is bottled by "Southfork Distilling Co.," and the bottle features a screenprinted image of the iconic gate to the Ewings' Southfork Ranch. A regional rep for the bourbon kindly provided me with a sample for review. Is it more than a publicity stunt? Read on.
The aroma: Once in the glass, this bourbon is a very light straw color, and the nose is also light – sweet, with a lot of corn and vanilla and a note of molasses. Think candy corn.
The taste: Again, very light and sweet on the front, with a lot of corn and a little oak and not much else. A mild tingle on the mid-palate gives way to a short finish. Simple and basic.
The verdict: While the bottle is very nice and would make a good conversation piece, I can't imagine this lightweight whiskey being the go-to bourbon of J.R. Ewing, who had an oversized hat and a personality to match. I think even Miss Ellie would want something with a little more kick. This is a bourbon you would obviously want to take neat, and it's not because adding water or ice would further dilute it. It's because the best reason I can think of to throw one back is that you can then proclaim in all honesty: "I shot J.R."