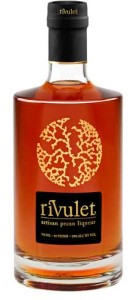 60 proof; no age statement
About $34 for 750ml, although I've seen it for as low as $28
The story: Rivulet was launched in Louisville in July of this year by James Marshall, who produced the first batch at the Distilled Spirits Epicenter. "When we set out to craft Rivulet, we began with a vision to create a unique world-class spirit…one that had never been done before," he says on the Rivulet website. This blend of brandy, American Hickory pecans and other ingredients has already won several awards, including a Double Gold in the 2014 San Francisco World Spirits Competition. After being favorably impressed by a shot at Buck's Restaurant, I bought a bottle for further review.
The aroma: Rich pecans, cinnamon, orange zest
The taste: Pecans toasted in butter, maple syrup, cinnamon and baking spices. Sweet, but not cloying, with a very clean finish.
The verdict: If you like pecans, you will love this. Friends visiting from Boston who were with me at Buck's loved it so much that I think they are planning a trip back to Kentucky just to buy more of it. It is delicious neat as an after-dinner drink, and I think it would be just as delicious poured over pancakes the next morning, although I have not tried that. (Yet.) The brand website has a selection of recipes using the liqueur; I'm not sure it would really work that well in most cocktails (I have read reviews that tout it as a fine substitute for Amaretto, though) but you can be darned sure I'll be making a Rivulet Pecan (Liqueur) Pie very soon.