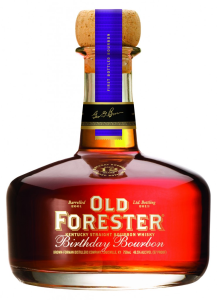 12 years old, 97 proof
Estimated retail, about $60/750ml
The story: This limited edition of Old Forester is released every September in honor of Brown-Forman founder George Garvin Brown's Sept. 2 birthday. Last year's edition was particularly fine.
The aroma: Very rich nose, with notes of vanilla, caramel and light citrus
The taste: Dry and a little spicy on entry; creamy mid-palate with a distinct note of apricot; long finish with a pecan nuttiness.
The verdict: The candles on this year's Birthday Bourbon burn a little brighter than last year's – it has a bit more fire and spice. I think I prefer the 2013, but it's a close one. This, too, is a complex, tasty bourbon.