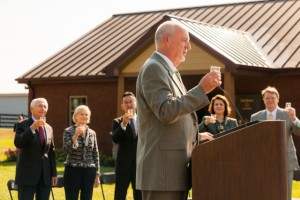 Today we'll make it a double. The Sept. 30 grand opening of Four Roses' visitor center at its Cox's Creek warehouse and bottling facility gave it a second destination on the Kentucky Bourbon Trail (the first, of course, is in Lawrenceburg, Ky., where its bourbons are distilled). This is the location where master distiller Jim Rutledge (shown above toasting the new center) conducts single-barrel selections. The visitor center features Four Roses memorabilia and a tasting bar and runs tours on the hour from 9 a.m. to 3 p.m. Monday through Friday.
As promised, here's your second shot of trivia: On the tour, you'll learn that unlike other Kentucky distilleries, Four Roses ages its bourbon in single-story warehouses. That minimizes the temperature variations found in multi-story warehouses, which the distillery says "provides a gentle, undisturbed and more stable aging process, as well as bourbon with more consistent flavors, body and aromas."
For more on the new visitor center, including directions, click here.
(Photo courtesy of Bandy Carroll Hellige for Four Roses)