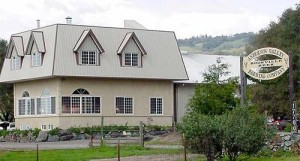 Just about two years ago, I covered the launch in Louisville of Anderson Valley Bourbon Barrel Stout, a collaboration between Anderson Valley Brewing Company in California's Anderson Valley and Wild Turkey Distillery in Kentucky's Anderson County. Just about two weeks ago, during a trip to the West Coast, I visited Anderson Valley in tiny Boonville, Calif., where brewmaster Fal Allen (below right) kindly took 30 minutes out of his day to give me a tour and tell me about some newer Wild Turkey collaborations.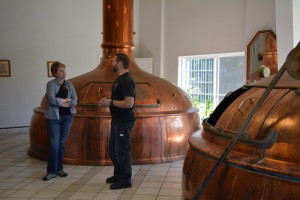 Anderson Valley Brewing was founded in 1987, near the beginning of the craft beer movement in the U.S., in a 10-barrel brewhouse. It's now housed in a three-story brewhouse, where the centerpiece is the four copper brew kettles (two are pictured above) that were rescued from failing German breweries. The brewery also has its own bottling line. And in one sweet bourbon-scented room, Wild Turkey barrels filled with beer are stacked to the ceiling. Anderson Valley Brewing was particularly lucky to partner with Wild Turkey when it did, Fal said, because bourbon barrels are increasingly hard to come by.
The most interesting thing I learned is that Anderson Valley has to age two batches of stout in each barrel and mingle those results for one bottling; there is still so much whiskey in the wood that the first-use batch would be too strong, both in flavor and alcohol content.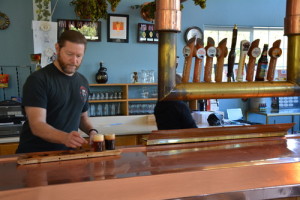 Back in the tasting room, we again sampled the Bourbon Barrel Stout along with four other barrel-aged brews: the Boont Barl (Boont Amber Ale aged for six months in third-use barrels, giving it very subtle vanilla and oak characteristics); Huge Arker Bourbon Barrel Imperial Stout (huge indeed, at 13.5 percent ABV, and with bold, rich chocolate and coffee notes); Rye Barrel Stout; and Pinchy Jeek Barl, a seasonal barrel-aged pumpkin ale.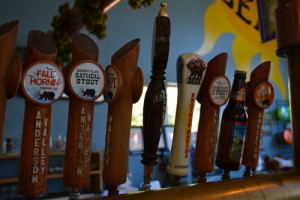 Fal also treated us to a taste of Blood Orange gose, which he said some refer to – and rightfully so – as a "beer-mosa."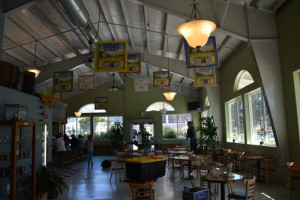 I want to thank Fal again for spending so much time with us, and I have to agree with Wild Turkey Master Distiller Jimmy Russell's assessment that Anderson Valley is making "premium craft beers." The collaboration between brewery and distillery seems meant to be. As if to underscore that point, as we drove the winding road away from the brewery we had to stop to allow three birds to cross. Wild turkeys.
(Top photo, AVBC website; all others taken by Chad Carlton)