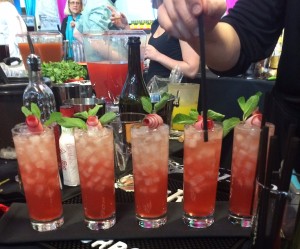 Aren't those juleps pretty? They were also pretty tasty – tasty enough to win both the Judges' Choice and the People's Choice awards at Four Roses' 12th annual Rose Julep Contest, held in conjunction with the Kentucky Derby Festival's "Derby Festival Unveiled" event.
These Rosé Runner juleps were the creation of Martini Italian Bistro mixologist Colleen McCarthy-Clarke, who created a rhubarb syrup and fashioned rosebuds from rhubarb for the beautiful garnish. Her julep also included Four Roses Small Batch, five or six mint leaves, a squeeze of lemon, several dashes of rhubarb bitters and a topper of prosecco. This was the second consecutive win for Martini Italian Bistro, which will begin serving the julep on March 2. Watch McCarthy-Clarke in action here:
I was fortunate enough to be asked to judge the Rose Julep Contest again this year, and I was again impressed by the inventiveness – and stamina! – of the contestants: Micah Rondot of Against the Grain, for instance, made 400 of these ice spheres infused with Bourbon Barrel Foods' Mint Julep Sugar for her Ramble on Rose cocktail!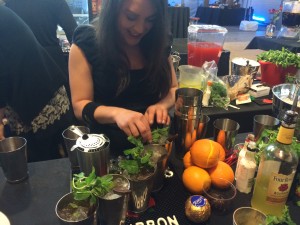 I also really enjoyed the Orange You Glad I Said Chocolate Mint? cocktail  from Saints Pizza Pub and Sky Bar's Jennifer Jarvis and Bruce Jarrett, which took third place in both categories.
Second place in the Judges' Choice went to Martini Italian Bistro's Jason Stark (The Perfect Pace), and Troll Pub Under The Bridge's Karla Ramsey(Derby Day) took second in the People's Choice.
Cheers to all!