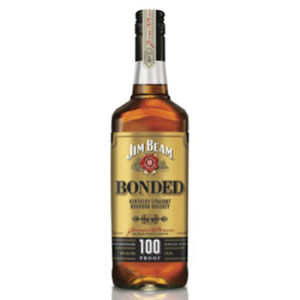 Jim Beam Bonded Kentucky Straight Bourbon Whiskey
100 proof; 4 years old
Suggested retail price: $22.99/750ml
The story: In February, Jim Beam rolled out a new expression that harkens back to the days of bourbon production under the requirements of the Bottled in Bond Act of 1897: Spirits had to be the product of one distillation season at one distillery; aged no less than four years in a bonded warehouse (in other words, one overseen by U.S. Treasury agents); and bottled at 100 proof (50 percent ABV). The purpose was to ensure that what the consumer was purchasing was really whiskey. While deregulation in the 1980s eliminated the requirement of the government tax stamp, many distillers who follow the requirements do include the words "Bottled in Bond" on their labels to give the consumer more information about what's inside. I sampled Beam's Bonded neat at a Bourbons Bistro launch event in Louisville, with Master Distiller Fred Noe holding court.
The aroma: Very sweet, some toasted oak; reminiscent of creme brulee or merengue.
The taste: Sweet on entry but quickly heats up; lots of spice for 100 proof. Sweet brown sugar, vanilla and toasted marshmallow flavors on the soft front give way to a dry, tannic finish with lingering cinnamon spice and a bit of mint.
The verdict: Much bolder and more interesting than Jim Beam Original Recipe; not my favorite bourbon, but worth a try at less than $25. Next time I will add a bit of water to see if that smooths out some of the rough edges.