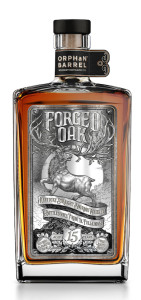 Orphan Barrel Project: Forged Oak Bourbon Whiskey
90.5 proof; 15 years old
Suggested retail price: $65/750ml
The story: Forged Oak is the fifth release from Diageo's Orphan Barrel Project, in which the company creates fanciful names and back stories for whiskeys it has "discovered" in its warehouses and sells them in distinctive bottles – in this case, with a silvered label featuring a majestic elk whose antlers form the branches of a tree. This straight bourbon, "a pillar of strength rooted in time and wisdom," was made at the New Bernheim Distillery and spent 15 "contemplative" years in Stitzel-Weller rickhouses, Diageo says on its website, Like all Orphan Barrel offerings, it was bottled in Tullahoma, Tenn., home of Diageo's Dickel.
Aroma: Toasted oak, vanilla, leather.
Taste: Vanilla, cedar, smoke, leather, dry cocoa on the back; long, peppery finish – more spice than I expected with a mash bill that is only 6% rye (86% corn and 8% barley).
The verdict: The Orphan Barrel Project is marketing at its savviest. It capitalizes on the current thirst for rare whiskeys by creating these "new old" brands, implying that they are in very limited supply, referencing Stitzel-Weller and Bernheim whenever possible and pouring them into eye-catching bottles. So far, I have been less impressed by what's inside the bottles; Rhetoric, the third release, is the only one I'd seek out again. Forged Oak is my second-favorite of the bunch, and at $65 the most affordable of these curiosities. But unless your curiosity is seriously piqued, I'd say you could spend that $65 better elsewhere.