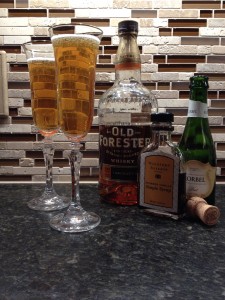 This festive cocktail was created by Marianne Barnes, then-master taster at Brown-Forman, for a bourbon dinner at Varanese in Louisville. I liked it so much I asked for the recipe. While Marianne's instructions called for simple syrup and Woodford Reserve barrel-aged vanilla extract, I simplified by using Woodford Reserve Vanilla Simple Syrup (available at the Woodford Reserve gift shop or from Louisville's Bourbon Barrel Foods). This cocktail is smooth, simple and elegant. It's an easy way to add a little celebration to your evening.
Vanilla Bean-Bourbon Champagne Cocktail
1.5 oz. bourbon (Marianne used Old Forester 86 proof, but I substituted Old Forester Signature 100 proof, which made the cocktail slightly less sweet)
1.5 oz. Woodford Reserve Bourbon Vanilla Simple Syrup (1 oz. would work too, if you wanted a little more bourbon flavor)
Korbel Brut (or other dry Champagne)
Stir bourbon and simple syrup and pour into a flute. Top glass off with Champagne and enjoy!