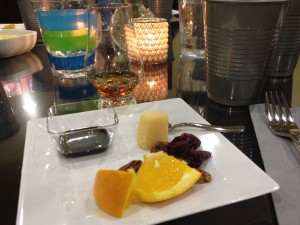 The host of a private bourbon event, "Cooking with Bourbon," that I attended last week started us off with a version of the Flavor Wheel exercise that chef Ouita Michel shares during Woodford Reserve's Bourbon Academy to illustrate how well (or not) bourbon plays with various types of foods. 
You, too, can replicate this exercise at home. The results can help you decide both how to enhance your recipes with bourbon and how to pair the spirit with the finished products.Here's how:
On a plate, arrange the following in a circle, or a rough circle, or, as above, in a square (apologies for the less-than-perfect photo, too; the angle was difficult):
A piece of Parmesan cheese
Dried cranberries
Pecans
Orange slices
Sorghum (not molasses; sorghum, made from sorghum cane, is thinner and has a slightly sour note)
Select your bourbon. In this case, we were tasting Henry McKenna Single Barrel Bottled in Bond (100 proof), rather than Woodford Reserve. A glass of water is also a good idea for cleansing your palate in between samples.
First, take a small sip of the bourbon neat, so that you have something against which to compare.
Now, take a bite of the cheese and follow it with a sip of bourbon. What we found is that the cheese took a lot of the heat out of the bourbon and brought out more fruit notes. The oils also coated the tongue and delivered the bourbon straight to the back of the palate.
You might think the cranberries would bring out even more fruit – but instead, they emphasized the spice in the bourbon. I got cinnamon and nutmeg.
The oil of the pecans again sent the bourbon to the back of the palate, but they brought out more of the wood tannins in the spirit.
The orange was my favorite. Combined with the bourbon, it elevated the chocolate characteristics, tasting a whole lot like those balls of orange-spiked chocolate that you whack on the counter to split into pieces.
I've done Ouita's Flavor Wheel at the Bourbon Academy, and up to this point, the results were similar to what we tasted with the Woodford. But things took a sharp turn when we got to the sorghum. What had been my favorite pairing at the Academy was my least favorite pairing with the Henry McKenna. The sorghum made the bourbon taste bitter.
But that's what is fun about this exercise: It can differ with each bourbon you sample. Give it a try with your favorite brand this weekend and marvel at the complexity of America's native spirit.