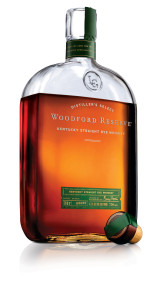 90.4 proof, no age statement
Suggested retail price: $39.99/750ml
The story: Woodford Reserve recently rolled out limited quantities of this new addition to its product line, which Master Distiller Chris Morris says he worked on for more than nine years before he was satisfied. His rye is unlike any other, he says: "It has all the usual characteristics of rye whiskey – big clove and spice notes, black pepper, tobacco – but unlike other ryes, it has some sweet and fruit characters with a really pronounced honey note." Let's see how my tasting notes compare with his.
Aroma: Boldly spicy, with notes of black pepper, cedar, green apple
Taste: The kick of the rye is nicely balanced with the sweetness of sorghum and honey. Mouth feel is smooth, almost creamy. Long, sweet finish of cloves and mint.
Verdict: This is a bourbon drinker's rye: enough spice to be interesting, but not enough to be overpowering. While it would make a fine addition to cocktails, I have enjoyed sipping it on the rocks. Welcome to the family, Woodford Rye.