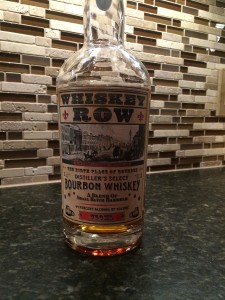 Whiskey Row Bourbon Whiskey
88 proof; no age statement
$43.99/750ml
The story: Whiskey Row is a bourbon blended by Kentucky Artisan Distillery, a new distillery started in a former ice cream factory in Crestwood, Ky., by a partnership including former Brown-Forman president Stephen Thompson. The name pays tribute to Louisville's Whiskey Row; the label features an 1864 etching of Main Street. Kentucky Artisan eventually plans to distill its own bourbon as well as serve as a cooperative for others who want to produce spirits.
Aroma: Sweet, lots of corn – like kettlecorn; also a grassy botanical note
Taste: Soft on entry, dry through the mid-palate, a little fire at the end. Sweet, lots of grains, white pepper, nutmeg on the short finish.
The verdict: While there is no age statement, this has to be a fairly young blend – it can't be much more than four years old. It's not terribly complex but not in a bad way; it would make a good mixing bourbon. There's more fire than you might expect from an 88 proof bourbon. I found that an ice cube helped to smooth the rough edges.