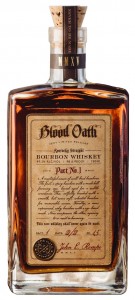 98.6 proof (the average temperature of blood)
Blend of three bourbons aged 6 to 12 years
$89.99/750ml suggested retail price
The story: Blood Oath is a new ultra-premium, limited-edition bourbon series by St. Louis-based Luxco. This initial release, dubbed Pact No. 1, is blended from three Kentucky straight bourbons – a spicy, rye-based bourbon; a smooth, wheated bourbon; and a full-bodied rye-based bourbon aged for more oakiness – and hand-bottled. The handsome, squared-off bottle has a thick paper label styled like an official certificate, signed by Blood Oath creator John Rempe, the specific bottle's creation date, and the story behind the pact:
This rare whiskey shall never again be made. The Blood Oath attests: That every batch of Blood Oath is the undertaking of one man — a student of both bourbon and science. Loyal to no one family, favoring no one distillery and bound by no one philosophy – this bourbon connoisseur has one goal in mind – to seek out bourbons rare and wonderful, famous and forgotten. Then bottle them in combinations previously unimagined for a lucky few. Not to cater to anyone's loyalties, he has sworn to never reveal where he finds his bourbon, but only to promise to choose and make the best he knows. Loose lips never tasted something so special.
The bottle I purchased was created on 2/16. Let's see how Mr. Rempe did, shall we?
The aroma: Sweet vanilla, cherries, floral note (roses), light oak
The taste: Soft entry, with a buttery mouthfeel; vanilla and fruit notes persist until the mid-palate, when the rye announces itself with a peppery punch and some mint. The spiciness continues through the slightly dry finish (think nutmeg). An oily alcohol residue remains.
The verdict: I enjoyed this bourbon neat, and if you have $90 to spend, it wouldn't be a bad buy. But what Blood Oath really attests to is the remarkable current demand for "limited editions." I'm sure that, like every limited edition bourbon these days, Blood Oath's Pact No. 1 will sell out immediately. And it "shall never again be made" because Luxco can never again secure the exact same Kentucky bourbons that were used to blend it. I do give the company props for being completely open on the label about what's inside the bottle. But will I rush out to buy Pact No. 2 in 2016? Probably not. I'm not sure how long this collective craze for the "new and few" will last, but I solemnly swear to remain content with the delicious Kentucky bourbons that I know will be there year after year.