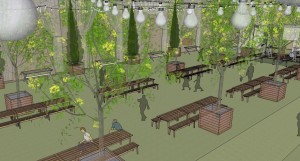 Metro Louisville officials gave a sneak peek of this year's iteration of ReSurfaced at a meeting last Friday.
"ReSurfaced: The Bourbon Edition," which opens June 4 at 621 W. Main St. in the open space behind two building facades, will be patterned after communal beer halls, with long tables to promote connections, live trees to provide a shady canopy and chandeliers to make it like a party. Murals will add to the all-new decor.
Lots of wood and copper will evoke the materials used in distilling, and members of the Kentucky Distillers' Association, the main sponsor of ReSurfaced, will provide items for display. ReSurfaced's opening weekend coincides with the KDA's 2nd annual Bourbon Affair, a fantasy camp for bourbon enthusiasts with 45 events taking place in Louisville and at distilleries all over the state. ReSurfaced, a free event, is a way for the KDA to pull in a different crowd, said Brittany Allison, the organization's bourbon ambassador.
ReSurfaced will run from 5 p.m. to midnight every Thursday-Saturday in June except for June 20, when a wedding will be held in the space. (The bride-to-be actually changed the date of the nuptials to be able to use the area, which should amply demonstrate the success of this venture to transform a vacant lot into a vibrant venue.)
Each weekend will feature different programming, mostly live music, and different local restaurants. But the centerpiece, of course, will be the bar, which will offer specialty cocktails and premium brands by the pour or in flights. While you must be 21 or older to sample the bourbon, of course, the space will be open to all ages.
This year's ReSurfaced will have a completely different feel from last year's, said city spokesman Chris Poynter, and it will serve as a preview – a taste, if you will – of a huge new bourbon festival planned in Louisville in 2016.
For more details about ReSurfaced: The Bourbon Edition, click here.