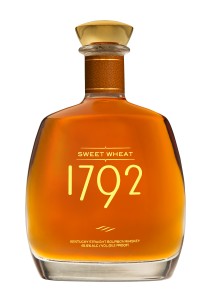 Over the transom this week, news of two new bourbon releases coming soon to shelves near you:
1792 Sweet Wheat
Barton 1792 Distillery will soon debut the first-ever new 1792 whiskey expression,  1792 Sweet Wheat. Distilled in 2007, the recipe features wheat as the secondary grain, rather than traditional rye, which will give it a softer flavor than the flagship brand, says Ken Pierce, director of distillation and quality assurance.
Distilled, aged, and bottled at Barton 1792 Distillery, this wheated bourbon was aged for eight years in the warehouses in Bardstown, Ky. The distillery's tasting notes: "Hints of caramel, vanilla, and ripe fruit mingle with notes of deep oak tannins and tobacco, followed by a clean, pleasing finish and unmistakable character."
1792 Sweet Wheat was bottled at 91.2 proof and will retail for around $32.99. Marketing director Kris Comstock says Barton 1792 will release more new expressions over the next few years.
Limited-edition Booker's

At Beam, meanwhile, the third batch of the 2015 limited-edition line of Booker's Bourbon, cleverly named The Center Cut, is rolling out this month. The name of Batch 2015-03 celebrates founding distiller Booker Noe's favorite part of the rackhouse and choice cut of meat. Booker liked to age his namesake barrels in the center of the rackhouse, the 5th floor, to achieve the robust flavor that Booker's Bourbon is known for; he also cured his own meat and enjoyed a thick cut from the center.
This is the first batch in the 2015 limited-edition collection that Fred Noe, Booker's son and Beam's 7th Generation Master Distiller, selected with the help of the Booker's Bourbon Roundtable, an exclusive group of top whiskey experts, enthusiasts and writers. For the first time ever, the Roundtable was joined by local Louisville Chef Coby Ming, who helped to select a batch that would pair well with foods.
The Center Cut, aged 7 years, 2 months and 28 days, has a proof of 127.2. Here are the distillery's tasting notes: "Nose: Vanilla with oak. Finish: Long, sweet finish. Sipping suggestions: With ice or cut with water." It's priced at  $54.99.
The Bourbon Babe hopes to track both of these down and provide her own tasting notes soon. Stay tuned, Bourbonites.