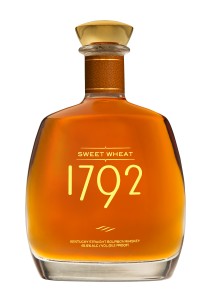 91.2 proof, 8 years
$32.99/750ml
The story: 1792 Sweet Wheat is the first-ever new expression for Barton 1792 bourbon. It was distilled in 2007 using wheat as the secondary grain rather than rye, which the distillery says "gives the taste profile a softer and more delicate flavor" than the flagship brand. Barton 1792 kindly provided me with a sample of 1792 Sweet Wheat; here are my own notes on its flavor profile, which is indeed distinctly different from Barton 1792, but not in the way I expected.
The aroma: Sweet; caramel and buttered toast
The taste: More spice than I anticipated from either the nose or the recipe – white pepper, layered over dried fruit and a hint of tobacco. The slightly tannic finish leaves the tongue dry.
The verdict: While I enjoyed this bourbon, I wouldn't describe its flavor as "sweet," a descriptor that does come to mind when I drink Maker's Mark, another wheated bourbon. That's not a knock on 1792 Sweet Wheat, just an observation. After all, many bourbon drinkers think Maker's is too sweet. What I found most interesting was tasting this side by side with Barton 1792: Despite the fact that Barton has rye in its mash bill, I thought it was actually sweeter than the Sweet Wheat. Call me crazy – you wouldn't be the first. In a complete aside, I really like the new Art Deco treatment of the logo on the 1792 Sweet Wheat bottle.