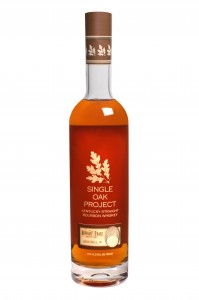 A four-year quest to find "the perfect bourbon" concluded this week with Buffalo Trace Distillery's announcement that drinkers had selected Barrel #80 as their favorite in the Single Oak Project. Buffalo Trace, meanwhile, accumulated reams of information on how entry proof, wood grain, and even the cut of a tree affects the taste of its bourbon.
For the past four years, Buffalo Trace Distillery has incrementally released 192 different bottlings of the Single Oak Project bourbon and asked whiskey enthusiasts to vote on their favorite at www.singleoakproject.com.  A total of 5,645 people participated, giving 5,086 unique whiskey reviews. On average, each of the 192 whiskies was evaluated 26.2 times.
The Single Oak Project began in 1999 when Buffalo Trace hand-picked and harvested 96 individual oak trees with varying wood grains. From each, two barrels were fashioned, one from the top half of the tree and one from the bottom.
Seven different variables were studied over the course of the project: recipe (wheat or rye); entry proof (105 proof or 125 proof); stave seasoning (six months or 12 months); grain size (tight, average, or coarse grains); warehouse (concrete floor or wooden rick floor); char level (number three or number four char); and tree cut (top or bottom half of the tree).
The winning bourbon from Barrel #80 was a rye recipe, entered into a barrel made from oak harvested from the bottom half of the tree with staves seasoned for 12 months. The grain size of the wood was considered average and the barrel received a number four char (the deepest char). The whiskey entered the barrel at 125 proof and was aged in a concrete floor warehouse. All of the Single Oak Project bourbons were aged for eight years.
Here are some of the things Buffalo Trace learned from online reviews:
Bourbons that produced the best aroma were made with a wheat recipe, entered at 105 proof, and aged in barrels whose staves seasoned for six months, in wood made from the bottom half of the tree.
 If flavor is your most important factor when picking a bourbon, barrels made from the bottom half of the tree were a safer bet.
For those looking for the smoothest finish, a bourbon aged in barrels from (again!) the bottom half of the tree, but with a number three char and 9 tree growth rings per inch, scored the highest.
Buffalo Trace is now making plans to start producing the winning formula from Barrel #80 for future batches of Single Oak Bourbon. Of course, the oak must be harvested, the staves dried for 12 months, and then the bourbon must be aged for eight years. Mark your calendars for the year 2025!
"We are flattered and thankful that so many whiskey connoisseurs took the time to participate in this experiment," bourbon marketing director Kris Comstock said in a release. "Although we're not quite sure how the tree loggers plan to harvest wood solely from the bottom half of the trees, we're eager to get more barrels and start producing more of the winning Single Oak Project bourbon!"