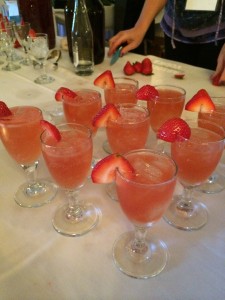 Heaven Hill sponsored the opening night's reception at the Bourbon Women's Sip-osium at the Pendennis Club on Friday, Aug. 21, and three bartenders created cocktails using three of their products. My favorite, The Kentucky Sparkler, was mixed by Emily Hornback of 211 Clover Lane. It's perfect for a warm summer night.
The Kentucky Sparkler
1 1/2 oz. Rittenhouse Rye
1/2 oz. Real Strawberry Syrup
1/2 oz. fresh lemon juice
Sprinkle of ground cinnamon
Shake over ice and dump into a Collins glass. Top with dry vanilla soda and stir. Garnish with a fresh sliced strawberry.