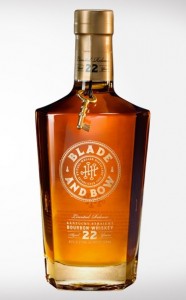 92 proof; 22 years old
$149.99/750ml suggested retail price
The story
: This new brand from Diageo pays homage to
Stitzel-Weller
, the historic distillery that now houses Diageo's
Bulleit Frontier Whiskey Experience.
The name refers to the blade shaft and the ornamental bow handle of a skeleton key, a reference to the Five Keys symbol that is found throughout the distillery (and itself refers to the five steps of crafting bourbon – grains, yeast, fermentation, distillation and aging).
Blade and Bow 22 is a blend of whiskeys from multiple sources that has been aged at Stitzel-Weller. Diageo has also released Blade and Bow Kentucky Straight Bourbon, a younger blend (with no age statement). For my tasting notes on Blade and Bow Straight Kentucky Bourbon, click here.
But now let's sip the 22-Year-Old.
The nose: Fabulous. Very sweet and rich, with notes of vanilla and brown sugar. Reminiscent of cake batter.
The taste: Lots of alcohol and peppery spice on the front mellows toward the back of the palate to baking spices that are more like a rye than a traditional bourbon. Fairly short, dry finish leaves a shot of mint behind.
The verdict: I enjoyed this much more than the younger Blade and Bow. It had much more complexity. But it didn't quite deliver on the promise of that exceptional nose, and both versions have a drier, shorter finish than I prefer. If you are going to splurge, though, you'll be happier with the 22-Year-Old than you would be with the youngster.