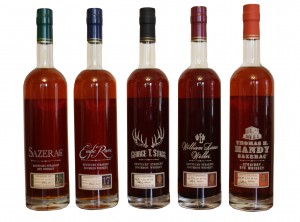 Every September, Buffalo Trace Distillery in Frankfort, Ky., releases its Antique Collection, five limited-edition whiskeys – George T. Stagg, Eagle Rare 17 Year, William Larue Weller. Sazerac Rye 18 Year and Thomas H. Handy Sazerac Rye – that have become cult favorites. This year's collection again has a suggested retail price of $80 each (per 750ml), assuming you are fortunate enough to find any at your local retailer. The hunt will be especially challenging for lovers of George T. Stagg; Buffalo Trace reports that a staggering 84 percent of the juice was lost to evaporation over its 15 years in the wood. Some of the 128 barrels retained just 1 or 2 gallons from the original 53. The good news: While the Stagg was far and away my favorite of the 2014 Antique Collection, it was eclipsed by another entry this year. Read on to find out which one, and thanks to my friends at the Trace for sending me the 50ml samples for these tasting notes.
Eagle Rare 17-year-old (90 proof)
Aged on first, second and third floors of Warehouses Q and I
The aroma: Sweet and savory, with notes of bacon
The taste: Dry and puckery; cinnamon and oak. Very dry, short finish.
George T. Stagg (138.2 proof)
Aged 15 years (distilled in spring 2000), floors and warehouses unspecified, but varied; uncut and unfiltered
The aroma: Lots of cocoa, alcohol
The taste: Chocolate and vanilla notes are largely overpowered by the burn – this edition of the Stagg is over the top. Last year's Stagg was very close in proof (138) but easily sipped neat; this one was improved by a splash of water, which opened up more dark fruit flavors.
William Larue Weller (134.6 proof)
Aged 12 years (distilled in spring 2003) on the second and sixth floors of Warehouses I, K and L; uncut and unfiltered
The aroma: Buttery caramel, honey
The taste: This is a big, powerful bourbon, especially considering it's the wheater of the Collection, but here that translates into a lingering buttery warmth, with flavors of nougat and toffee and a hint of nuttiness.
Sazerac Rye 18-Year-Old (90 proof)
Several years ago, barrels of fully matured Sazerac Rye 18 were put into a stainless steel tank at Buffalo Trace to prevent further aging, and that whiskey has been drawn every year since for this limited-edition bottling. This is the last batch from the tank. Next year's bottling will come from barrels filled in April 1998; the following year, from barrels filled in 1999; and so on.
The aroma: Lots of rye and grain; grassy
The taste: Allspice, dark cherry, cool from entry to the short, dry finish. This has not been my favorite iteration of the Sazerac Rye, so I'm looking forward to the change next year.
Thomas H. Handy Sazerac Rye (126.9 proof)
This 6-year-old (distilled in spring 2009) uncut and unfiltered straight rye whiskey was aged on the fourth and seventh floors of Warehouses I, K and M.
The aroma: Gingersnaps with white icing
The taste: Cloves up front give way mid-palate to an interesting shift to butterscotch and then a smooth, long finish. Although its proof is considerably higher than that of the Sazerac 18, the Handy isn't noticeably hotter on the tongue.
The verdict: For my money, this year's winner is the William Larue Weller.