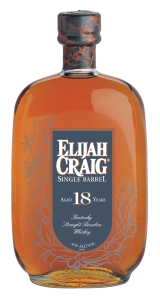 90 proof; 18 years old
$120/750ml suggested retail price
The story: It's back! After a three-year absence due to inventory shortages, Heaven Hill is again releasing Elijah Craig 18-Year-Old Single Barrel Bourbon, which was introduced in 1994. As demand for the EC18 and Heaven Hill's other super-premium bourbons grew, the number of 18-year-old barrels that met the distillery's standards dropped, so the bottling was discontinued in 2012 until stocks built back up. (Elijah Craig 23-Year-Old Single Barrel, which has been bottled in limited quantities since 2013, will also be available at the suggested retail price of $199.)
Heaven Hill says the selection process for Elijah Craig Single Barrel is one of its most stringent. Master Distillers Craig Beam and Denny Potter select only from barrels that have been stored at low levels in the rick house, and then choose only the ones that meet their nosing and taste criteria, looking for complex profiles that balance 18 years of wood with sweet and spicy grain notes. Heaven Hill was kind enough to send me a bottle for this review; let's see how they did.
The aroma: Very sweet, with notes of honey and (perhaps because it's close to Halloween) candy corn; the wood contributes a nice nuttiness. A terrific nose that made me eager to sip.
The taste: As promised, this is a very complex bourbon, with a wonderful interplay between sweetness (that honey again) and white-pepper spice, along with a pecan note from the wood. After a cool entry, the bourbon warms mid-palate, but never overpowers. It has a nice thick mouth feel and a long finish that combines mint and a lingering sweetness.
The verdict: Welcome back, Elijah! When it comes to over-aged bourbon, the guys at Heaven Hill know how to pick 'em. I am typically not a fan of bourbon that is more than about 12 years old because so many of them pick up a bitterness from the tannin, but I have yet to encounter that discordant note in the Elijah Craig line. This is one to savor neat – and, with its handsome packaging and blue/copper labeling, to admire on your bar.